Starter Guide: Europa Universalis 4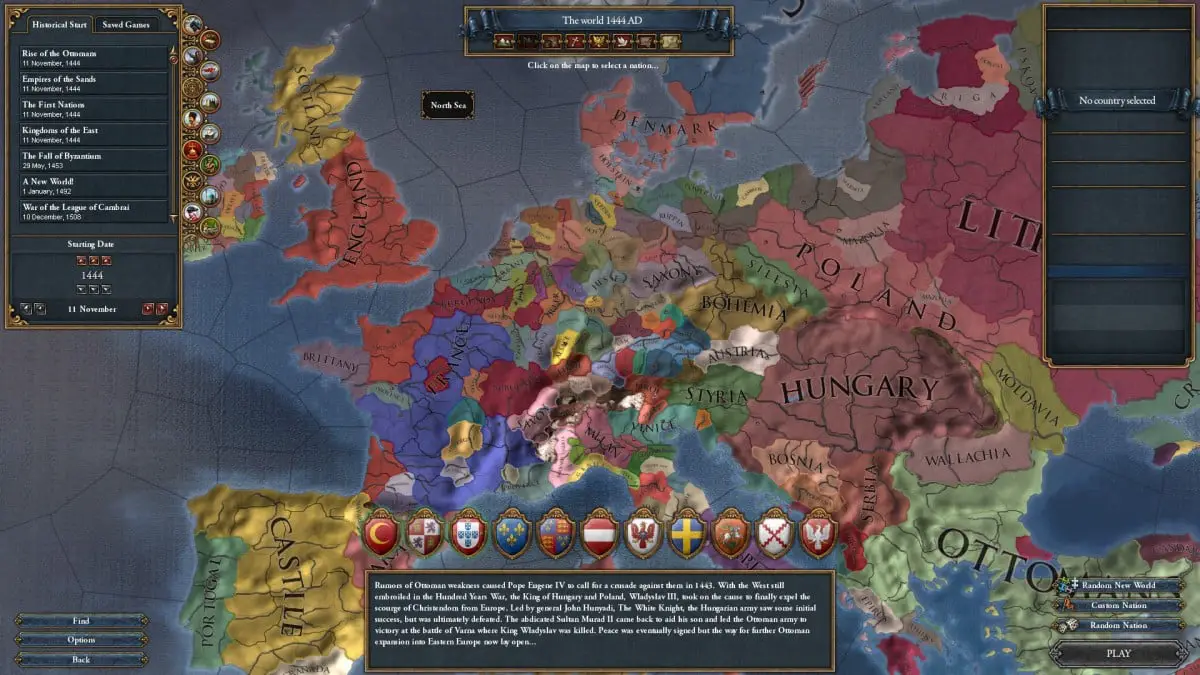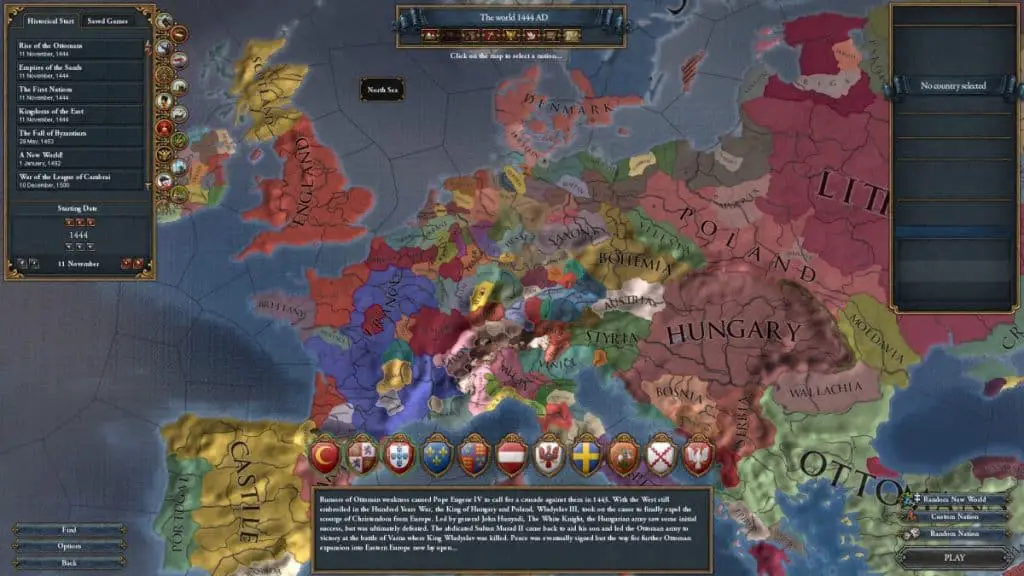 Okay, so you've decided to play Europa Universalis IV. You load into your game, and then WHAM,
notifications flash atop your screen and you have no idea how to turn your starter nation into a
superpower.
There are many ways you can go from the starting year, but here are the top ten of things you should do in order to get started! Here's our Europa Universalis 4 Starter Guide.
Set Your Rivals… Carefully
One of the first notifications you need to address is deciding your rivals. This is a critical first step because, barring a crazy change of circumstance, these rivals will be your primary military target and will oppose you at any turn.
On the one hand, the power projection and Casus Belli bonuses provided by attacking your rivals mean that
they are always in striking distance. However, there is also no point in alienating possible future allies.
If you are France for example, facing likely wars against both England and Austria (for Burgundy) early in the game there is no point in declaring Castile or Aragon as a rival.
While it may be tempting to charge headfirst into the whole world at the start of the game sometimes long-term success comes from picking the right rivals.
Improve The Army and Navy
Right of the bat, it is a good idea to max out your land and naval force limit, if you can afford it.
While nearing bankruptcy and running a deficit is not the way you want to start the game, having a strong military is critical to a fast start.
First off, reaching your land force limit will cross a mission off your mission tree — which is never a bad thing, but it also allows you maneuverability early on.
Maybe it means you can ally weaker nations, or lets you strike first in a war — but having a larger military means more options.
As Brandenburg for example, a large military lets you begin conquering early, or it could allow you to survive the Surrender of Maine as France.
Build Spy Networks
Once you have the military sorted out, it is time to start expanding.
Conquering land early in the game, when you are facing smaller nations with no modifiers or major alliances is
much easier than staring down late-game behemoths.
In order to do this efficiently, however, you have to begin building spy networks immediately. If you start with three
diplomats have two always laying down this foundation for future wars.
Expansion without a claim leads to higher aggressive expansion and increased core costs, which can stall you out through coalitions or a lack of diplomatic power.
Examine Your Financials
Now, obviously building up an army and preparing for war can be expensive. It is easy enough in this game to bury yourself in debt that you need to begin fixing that problem off early.
Assign your merchants to the most profitable area, and steer trade in a way that will be profitable for you. This is maybe one of the easiest starting steps in the list but it should not be overlooked.
Neglecting your finances can lead to reduced military size — and if you have the corresponding DLC it can limit your great power effectiveness.
Build Up Allies
Picking the right allies may be just as important as picking rivals. You will have to tread the fine line between backing weaker countries against your rivals and staking the strength of allying with other major powers.
For example, is it better to ally yourself (as France) to Venice to spite Austria? Or should you try and ally Austria down the line to brace yourself against other rivals?
The other thing you need to consider is that building alliances may make you the enemy of a country you do not intend to. The old enemy of my enemy is my friend phrase comes to life in this circumstance, as countries may reject diplomacy with you if you are allied to one of their rivals.
Missions and Decisions
If you are interested in making your own way in the world, this may not be a big deal for you. However, if you are considering a path with bonuses or a historical play-through, then checking the mission tree is critical.
Mission trees can provide mass claims as well as other bonuses, depending on the country chosen.
Decisions, in particular, are critical if you are trying to create a formable nation.
For example, the mission tree for Wallachia gives you claims on all the land you need in order to form Romania. So maybe you want to use the mission trees to take the fast lane to expansion, form Romania, and then abandon the historical path and blaze your own path.
All of these options and more are available by examining the mission trees and then trying to fulfill them.
Take Crown Land
Always remember to take crown land as soon as you load into the game.
While some players prefer to not have to jump through the various hoops that come with controlling the estates, it is still important to make sure you avoid the negatives that come with low crown land control.
Almost all nations start at 25-29% crown land, and this can be fixed quickly, easily, and with no immediate consequences.
On the other hand, if you are someone who pushes for the bonuses associated with high land control, the sooner you begin consolidating power, the quicker you can reap the rewards.
Unify Your Religion
Religion —similarly to crown land— can rightfully be disregarded early in the game. However religious unity is critical to avoiding disasters, rebellions, and lowering unrest.
While the cost associated with converting provinces' religion can seem to be not worth it, this also depends on which nation you start as.
A small European nation such as Brandenburg, or Hesse —just as examples— probably start 100% Catholic. Other large nations that border many different religious groups —i.e., the Ottomans— will face almost constant religious conversion troubles.
This is another example of something that has huge negative long-term effects, but can be solved early.
Decide Your Play Style
This is not something that guide you via a notification at the top. This one is more of a mindset, as opposed to an actual in-game change.
Your style impacts everything you do. Do you want a chill, playing tall game focused on diplomacy and royal marriages? That requires a different start than if you want to become an all-conquering warlord.
Maybe both of these paths interest you but you also want to focus on converting everyone to your religion, such as an Orthodox Muscovy start.
Every path you can think of is attainable in EU4, that's part of the fun — but knowing what your goals are, allows you to set yourself up to accomplish those goals.
Master Stratergy
This point meshes with the point before, but is important in a different way.
Once you have defined your play style you need to carve your path to victory using that style.
Want to be a conqueror? Playing as France? Then you have strategic decisions to make. What is the plan for the Surrender of Maine?
What is the status of Castile; Rival or Ally? Are you going to fight for Burgundy? What is the status of the border countries such as Provence, and Savoy? Will they be your first targets, or are they the necessary allies you will need to push your limits?
That is all not even to mention the later game decisions you will have to make such as a religious stance, the status of the HRE, and whether or not you should try and win the papacy.
Summary
There is no wrong way to play EU4, and that is one of my favorite things about it — you can play the same nation five times and end up with a completely different experience, and end result each time.
That does not mean however that winning isn't fun, and no matter what winning means to you, having a plan at the start of the game will do nothing but help, and hopefully this quick Europa Universalis 4 Starter Guide will get you off to a great start.