This page contains information on Jetpack Joyride's high scores.
In the game, the main character is Barry Steakfries. The storyline of the game entails Barry, who is a poor salesman. He accidentally discovers the Legitimate Research facility and their new invention, the machine gun jetpack. He invades the lab and takes the jetpack. The evil scientists try to chase after Barry and attack him using rockets, lasers, and zappers. The game can be played on mobile devices and PC using a Bluestacks emulator.
The highest score in Jetpack Joyride is 10,000,000 points by player FinesseGod. These other players closely follow the player:
| SCORE | PLAYER |
| --- | --- |
| 7,000,000+ | Player: AstroBazza |
| 6,100,000+ | Player: jbtitanic (201 |
| 5,800,000+ | Player: Keatonator25 |
| 5,600,000+ | Player: MachineGunKyle |
What Is the Highest Score in Jetpack Joyride?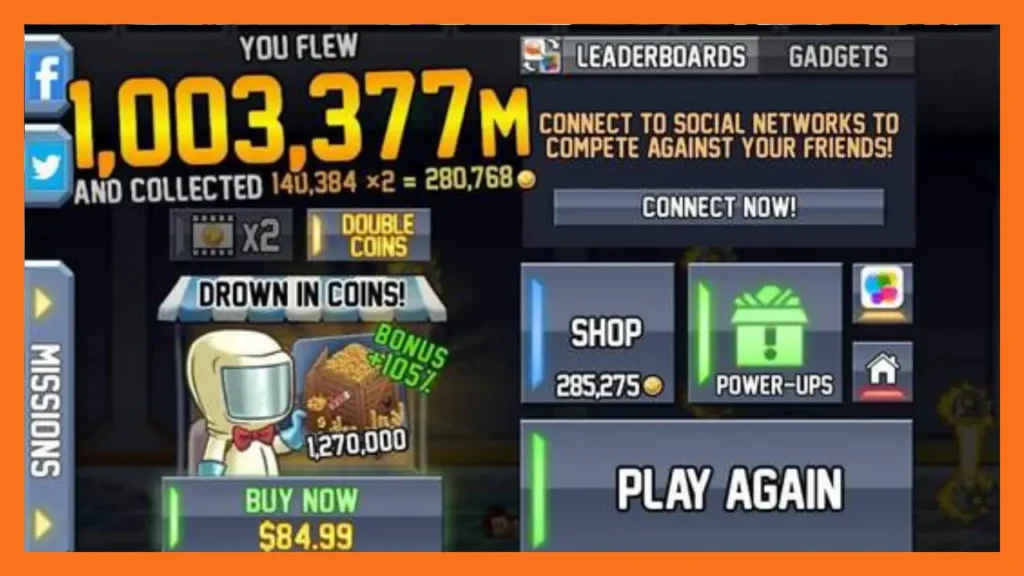 The highest score in the game is about 10,000,000 points, which, unfortunately, requires players to cheat to attain such a high score. There has also been debate on whether the game ends after achieving the highest score. After your character has achieved 30000 meters, a wall appears and zaps you, ending the game.
To obtain Sam, the main character in the game, open the game and tap on the screen. Begin playing the game until an S token emerges on the screen. After acquiring the A token, continue playing until the A token appears. Take the token and keep on playing until you see the last token appear, the M token. After obtaining the final token, the character will be activated, and you can now play with him.
How Do You Get a High Score on Jetpack Joyride?
If you want to get a high score, there are some tips and tricks which you can implement to achieve this. The forts tip is to take full advantage of the head starts since they will propel you further. Also, for ground vehicles, tap gently instead of firmly. When presented with power-ups, use them to your advantage and do not waste them.
Additionally, when playing the game, turn off the music instead of playing with the blazing music. Doing this will make you focus more and reach higher scores. Moreover, you should only use the Quick Revive option if you have a good chance of beating your previous high score.