PUBG
Taego Secret Room Locations in PUBG
This page contains information on how to find Taego secret room locations in PUBG.
The PUBG Taego secret rooms enable players to access rare and powerful loot items without having to go from town to town scavenging for items. Taego is a new map introduced to the game with the secret rooms mechanic.
On the map, there are 12 secret rooms scattered randomly. They resemble traditional buildings. To enter the secret rooms, players must have keys, usually found with other players. Looting their crate is essential when one player dies since they may be carrying the key.
Related: The best PUBG outfits list
Secret Room Locations in Taego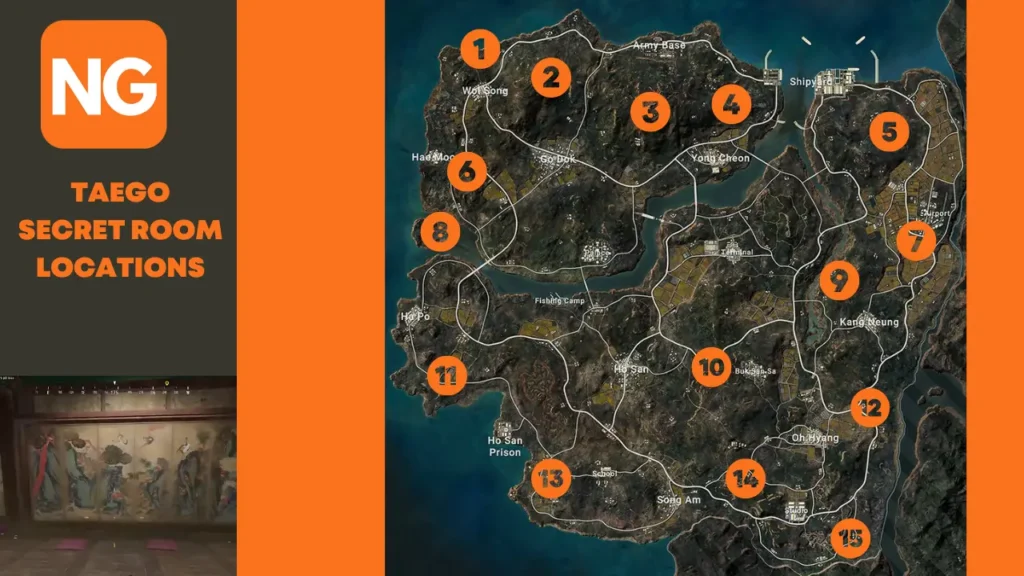 After your character finds one of the keys, the next task is to find one of the secret rooms on the map. Some of the possible locations of the secret rooms include an abandoned building South- East of the shipyard, the farm south of Ha Po, the scattered buildings southeast of Ho Sa Prison, a tiny village northwest of the Studio Complex, and a small compound north of Wol Song.
Players can quickly identify the Taego Secret Rooms since they have the aesthetic ancient Korean art of a crane and a waterfall. However, players should be extra vigilant when approaching the rooms because they are prone to campers who attack unsuspecting players distracted with the goal of entering the room.
Contents of the Secret Room
The loot in the secret room significantly increases the chances of players winning the chicken dinner since they contain top-notch loot, scopes, good medicine, throwable items and ammo. Therefore, experienced players have more chances of winning because they are more likely to utilize the battleground advantages over other players.
Another important tip is that when you loot the secret room, players should not stay in there for too long because other players will notice the secret room and be on high alert. Getting stuck in the room ends up with your character getting killed since there is only one way out.