Marauders
Does Marauders Have Controller Support?
Marauders is a first-person shooter (FPS) game available for players on their computers. The game explores a world riddled by war and where humanity has fled to space for safety. So, does marauders have controller support? 
Although the developers claimed to be working on the issue in 2022, they have yet to provide a solution. With the increasing number of players of marauders, the need for controller support has become paramount. 
If the game does not offer controller support, how do you go about it? Let's take a look. 
Marauders Controller Support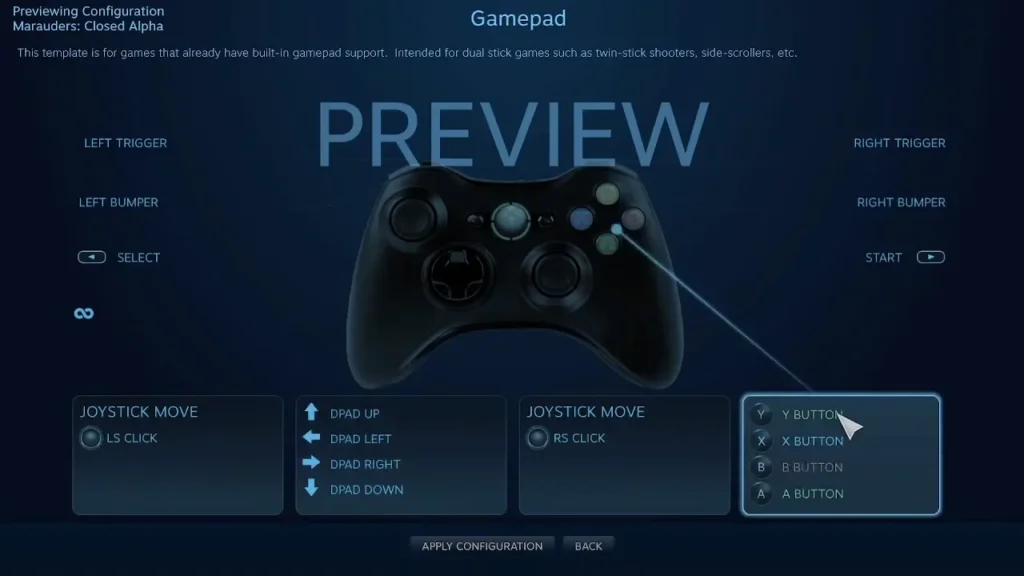 The marauders game does not have controller support, so you must create a control profile manually. However, if you use your mouse to play, you enjoy an upper hand because the "aim assist support" isn't available. You will need top-notch aiming skills to survive with an analog or touchpad in the game.
However, if you're on a PC and using Steam, you can configure an Xbox controller in Marauders. Let me show you how…
What Are the Supported Controllers for Marauders?
There is no controller support for Marauders. However, you can configure the controller for this game. To configure the controller for Marauders on your PC, follow these steps:
First, go to your library to select the game.
Go to the Big Picture Mode icon at the top right corner of your screen.
Then, click on Manage and select Controller Configuration.
Select Done and proceed to select Controller Options.
You will see a display of information on your screen, scroll down and select OK.
Go back to Controller Configuration and choose Browse Configs.
A piece of data will be displayed on your screen, indicating that it is recommended; click on it.
You will see boxes of instructions displayed; click on the box showing the button examples.
Select Button Pad and choose the Y Button.
Input Reload in the text box displayed to assign a button or key to be sent to the game when pressing the Y Button. 
Click Back and select X Button.
Click Done.
…after following these steps, your controller for the marauders game will be configured. 
How to Troubleshoot Controller Issues in Marauders
You might experience controller issues while playing marauders due to your computer's inability to detect the PlayStation controller. However, there are two ways to troubleshoot these controller issues, and they include the following:
Use Third-Party Programs
Using third-party programs that convert any controller input into Xinput is the simplest way to troubleshoot controller issues in Marauders for PC:
Troubleshoot Manually
You can troubleshoot controller issues on marauders by following these steps: 
First, launch steam.
Click Steam and check for its icon at the top left of your screen.
Go to Settings and select Controller.
Check for the General Controller Setting button and click on it, then select/check your gaming controller, e.g., your PlayStation configuration.
Afterward, go back and select the OK button.
Launch the Marauders game and proceed to check your controller
…there are other tips to consider when troubleshooting controller Issues in your game, and they are:
Plug in the Controller at the right time: Always connect the controller before starting the Marauders game and avoid connecting it while it is loading to prevent issues.
Examine the batteries: If your controller runs on batteries, including rechargeable ones, the batteries may have worn out. Most batteries tend to run out faster than usual as they age; if you notice this, replacing them is best.
Get and test different USB ports: Cabled Controllers may have connectivity issues, and changing the USB ports is a great way to debug connectivity issues that aging ports might have caused to your game. Also, if you hear a sound while your controller stops working, your dock or your controller cable may become faulty.
Keyboard vs. Controller in Marauders
An excellent way of playing the Marauders game without a controller is using a keyboard and mouse. Using a mouse gives you an upper hand due to the unavailability of aim assist support. Additionally, adding a keyboard and mouse to the Xbox is a good option for playing the game without a controller. 
Pros of Using a Controller vs. Alternative Inputs
A controller fits in a player's hand better than a keyboard and mouse.
Although controllers may have fewer input options to work with, those inputs are sometimes more accurate than the binary input of a keyboard.
Cons of Using a Controller vs. Alternative Inputs
The significant advantage of a keyboard and mouse over a controller is that a keyboard or mouse has higher flexibility than a controller; thus, aiming and movement are more accessible and faster.