DragonVale
How to Breed a Plasma Dragon in DragonVale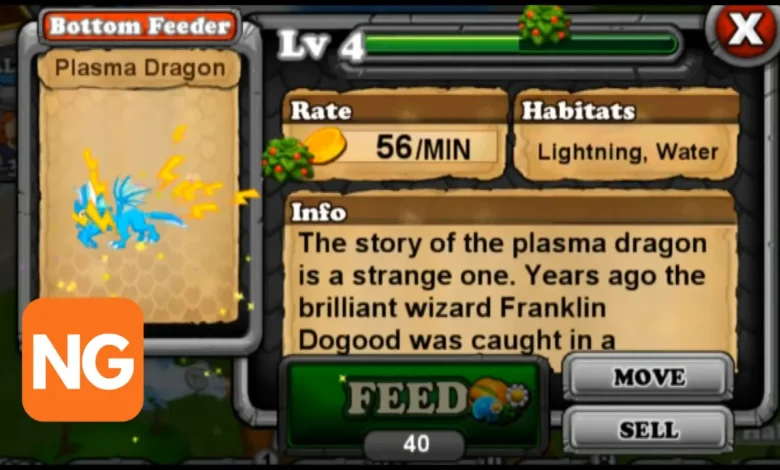 This page contains information on How to Breed a Plasma Dragon in DragonVale
The Plasma Dragon has a unique story. Years ago, a lightning strike caused a nearby pond to evaporate, trapping the great wizard Franklin Dogood in a dreadful storm. Being the scholar that he is, Franklin went to look into it and found a newborn dragon where the pond had once been.
How to Breed a Plasma Dragon
The TWO Elements that need to be combined to make the Plasma Dragon are Lightning Element Dragons and Water Element Dragons. The Plasma Dragon can be bred at the breeding cave by using the Lightning element and Water element. The Plasma Dragon incubation/breeding time is 16 hours. 
Note: If you breed a Lightning Dragon or a Water Dragon with a Plasma Dragon, it will result in a Lightning Dragon, a Water Dragon, a current Dragon, a Surge Dragon, or a Plasma Dragon itself. The opposite of the Plasma Dragon is the Current Dragon. 
The Plasma Dragon is required in the following breeding Combos: 
Jade Dragon 
Zaffer Dragon
The instant Buy-IT Price for the Plasma Dragon is 40 gems. As a matter of fact, the Plasma Dragon is the lowest-priced opposite dragon in the market. 
Also Read: How to Breed a Peridot Dragon in DragonVale
Plasma Dragons can be found in Lightning Habitat or Water Habitat. Plasma Dragon artifacts can also be obtained by one by completing the Ionized Guise Quest.