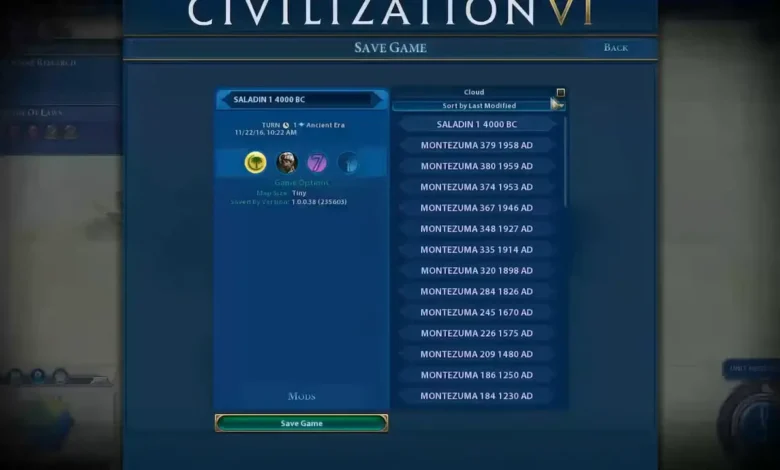 CIV VI is a leading turn-based strategy and 4X (Explore, Expand, Exploit, Exterminate) game with exciting gameplay, but a major challenge for Civ 6 players is that they struggle with how to edit Civilization 6 save files. The frustration for an average player that cannot edit their saved files can be quite crushing as others who make edits continue to dominate.
Although official Civ VI channels may be silent about editing Civ VI save files, it is an open secret in communities. Players can edit the game to suit their preferences with save files edits. We are here to ease the frustration, and this piece will teach you some simple methods to run your Civ VI save files edit correctly.
Contents…
What is A Save File In CIV 6?
A save file in Civ 6 is a storage feature that contains information about your progress in Civilization VI. From the moment you start a Civ 6 game, the game keeps a record of all your progress. When you save your progress, Civ 6 will gather data from your gameplay and store it in your device to create a save file.
For Civ 6, there are two types of save files, and they are:
Cross-platform cloud saves: This data is hosted on a cloud storage platform and can only be accessed via an internet connection. Civ 6 allows multi-platform cloud saves, which enables you to transfer saved files across different storage platforms.
Local saves: Local saves are data that are stored in a specialized folder on your computer or device. They are usually saved under program files or as a subfolder under your documents folder. Civ 6 local saves are typically stored under the Civ6Save extension.
How to Access Civ 6 Save Files?
If you're going to edit your files, knowing how to access them is essential. The method varies, given the platform you're on. It is as follows:
On Windows 
You can always find your Civ 6 saved files under C:\Users\<username>\Documents\My Games\Sid Meier's Civilization VI\Saves\
On Mac 
You can access your Civ 6 save files under $HOME/Library/Application Support/Sid Meier's Civilization VI/Saves
How to Edit Save Files In CIV 6?
Editing save files in Civ 6 can help you change your game. To make an edit to save files, select a file from the save files stored under the directory described for either Windows or Mac. After which, backup your saved file by copying it to a separate folder or uploading it to cloud storage. 
You will need to download a Hexacode editor and open both Civ 6 save files on the Hexacode editor. Compare different strings of the save files, especially lines related to desired results. Desired results can be victories, armory, or exceptional achievements attained in the game.
Edit your Civ 6 save files from matching strings on the desired results save files. Make sure to save and copy the edited Civ 6 file, and save it to the correct directory; load your game and enjoy.
Related: Civilization 6 Cheat Engine Guide (Step-by-Step)
What Are Some Common Edits For CIV 6 Save Files?
There are many edits for Civ 6, but the common ones are as follows:
Changing Game Speed 
Civilization VI has five game speeds which are:
Online (200% speed – 250 turns)
Quick (150% speed – 330 turns)
Standard (normal speed – 500 turns)
Epic (66% speed – 750 turns)
Marathon (33% speed – 1500 turns)
…you will have to choose a game speed when starting a new game. The selected game speed you go for will affect tech, production costs, and specific in-game actions. The game speed is changed by editing Civ 6 save files. following these steps:
Select the save file.
Open save file with a Hexacode editor.
Search for the string GAMESPEED_SELECTED SPEED, where SELECTED SPEED will be the default speed chosen at the start of the game. If you chose Marathon, for instance, you would search for GAMESPEED_MARATHON.
Replace GAMESPEED_MARATHON with desired speed, i.e., GAMESPEED_QUICK if the player wants to increase the speed to Quick or GAMESPEED_ONLINE if the player's desired speed is Online.
The player should save the edits to the save file on the Hexacode editor. 
Load up the save file in-game to reveal the new speed.
Changing Difficulty Level 
Civ VI has several difficulty levels, which are: 
Settler. 
Warlord. 
Prince. 
King. 
Emperor.
Immortal. 
Deity. 
…settler is the easiest Civ 6 level, while Deity is the hardest. Prince is the default level for any new game. You have to choose a difficulty level when setting up a new game and each difficulty level attracts specific bonuses.
Changing the Civ 6 difficulty level is impossible with the base game, but changing it by editing a save file may be possible. However, there isn't much information about previously successful attempts. 
Tips For Editing CIV 6 Save Files
It is necessary to back up your Civ 6 save files before attempting an edit. Backing up the saved file will prevent losing essential data if the modification fails or gets corrupted. You can always back up your Civ 6 save files by trying any method you are comfortable using.
You can copy a saved file and paste it to another folder or directory on your computer or upload the saved file to a cloud storage platform where you can access the protected file easily. You can also copy the Civ 6 save files to external drives.
How to Troubleshoot CIV 6 Save File Errors?
The best way to troubleshoot Civ 6 Save file errors will be to discover the cause. You can explore appropriate solutions when you know why the saved file is corrupted.
Here are some common reasons why save files can get corrupted and how to restore the corrupted files:
Can't load the latest save file: This can happen for several reasons, the most common being a failing hard disk. You can activate auto-save and grant full permissions for your save folder. You can also fix it by excluding the save folder from the antivirus if there's an active antivirus on the player's computer.
Corrupt save file after quick save or autosave: The quick save function may malfunction unexpectedly, and the solution is to delete the game file you saved using the fast save option and loading a standard saved file. Then you can proceed to save with the usual save game function.
Corrupted save file after turning off the computer: If you turn off your computer while the save process is yet to run, your save file will get corrupted. The solution is to start from a previous save or a new game. If you allow the save process to run entirely before turning off your device and still get a corrupted file, it may mean that your device is faulty. 
Corrupted save file due to mod: When several Civ 6 mods are installed, loading or configuring a save file may be difficult. The solution is to remove the mods and reinstall them.
Corrupted save file due to cloud storage problem: The cloud storage connected to your Civ 6 may cause corrupted file errors. Corruption can happen when the cloud storage is maxed out or suffers a malware infection. The solution is disconnecting the cloud storage and deleting the previously accessed cloud save the file.
…when you're faced with saving files that do not load, a simple solution will be to check the save files extension. Civ 6 save files are usually stored in the.Civ6Save extension. In some instances, your computer programs or operating system may change the capitalization of this extension, so you must correct the extension.