This guide details how to go upstairs in Adorable Home. If you're trying to unlock the Bedroom, keep reading because we cover it below…
When looking out of the Bathroom's and Bedroom's windows, they appear on the second story. When players discuss the upstairs in Adorable Home, they refer to these rooms.
However, the game's seven rooms aren't available at the start. Players must gradually unlock them by spending hearts. In the beginning, only the Lounge is open.
Players can purchase each room by completing missions and collecting Love from their partner. Once you've collected enough, players can buy the Garden, and then the Bedroom is next.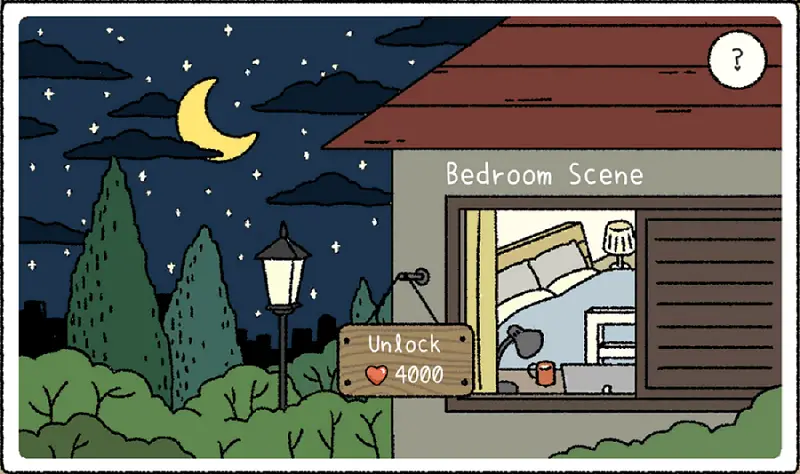 How to Access Upstairs
Follow these steps to go upstairs in Adorable Home:
Collect 4000 Hearts.
Tap the Home button in the bottom right corner.
Select the Bedroom option.
Click the Unlock sign.
What's Inside the Bedroom?
The Bedroom appears relatively bland when you first purchase the room, consisting of a White Wooden Bed and a White Desk. Under the shop's Bedroom Items section, players can buy new furniture to redecorate the room. 
Upon purchasing the Bedroom, a few aspects of Adorable Home will change. Firstly, a day and night cycle will begin that replicates the player's timezone. Whatsmore, the upstairs area will become available to players via the stairs. Considering the Bedroom's utility, it's recommended that players skip the Garden and jump straight to buying this instead.
Related: Purrfect Tale Recipes, Cooking List
Bedroom Furniture
Here is a list of Bedroom items that players can buy from the shop:
Beds
Nightstands
Dressing Table
Plants
Vases
Toys
Lights
Desks
Chairs
Carpets
Clothes Racks
Wardrobes
Summary
This guide explained how to go upstairs in Adorable Home. Once you know how to do it, accessing the upstairs area is relatively straightforward. Now that you've read this article, you should know how to do it.