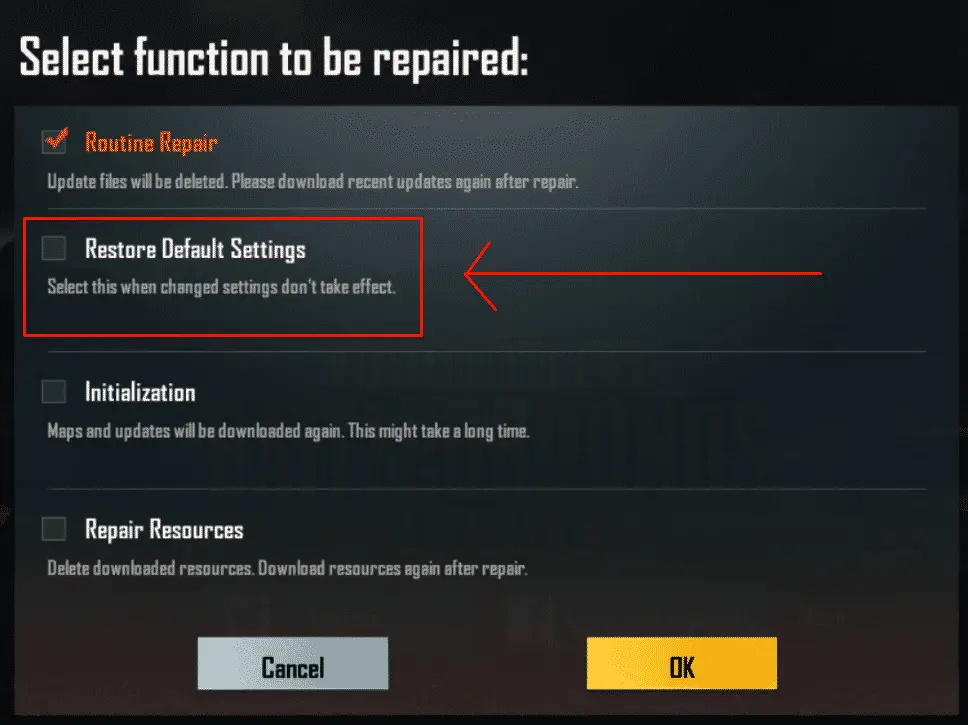 Resetting settings in PUBG Mobile is simple. It'll only take you a few minutes, and if you have mistakenly changed your settings, follow these steps to restore the default settings.
Reset PUBG Settings
If you haven't already, you'll first want to log out of your TenCent Account. Don't worry, this is as easy as it gets.

From the home screen, click the up arrow in the bottom right of the screen.





A new window should appear on the right third of your screen.

Click the button 'SETTINGS'

.




Click the 'Log out' button

in the bottom left.



You should then be taken back to the log in menu. To the right of the screen, there will be a

'Repair' button. Click it.





The 2nd option from the top should be 'Restore Default Settings'.

Click on the checkbox to the left of that.




That's it! Your previous settings should now be restored. Pretty simple, right?
How to Fix PUBG Settings Error that Reset Every Time I Open The Game?
I remember when I first started playing PUBG… I booted up the game for the first time, changed a few settings, and everything was working fine. A few hours later, I logged back on, and to my surprise, all my settings were restored back the default.
I'm sure if you're reading this part of the article, you're experiencing the same thing. Pretty annoying, huh.
But don't worry, I managed to fix it. And so will you, just follow these few steps:
Restart Your PC
If you haven't already, it's probably a good idea to restart your device. I'm sure you've heard this a million times, but restarting your computer is a tried-and-true method of fixing common issues. Give it a go, and if it doesn't work, try out the other steps we have on this guide.
Switch A Setting to Read Only
Go to the C:\ (Under File Explorer)
Then click Users.
Click your username
Click AppData > Local
Click the folder TslGame
Look for the folder called Saved.
Now go to Config > WindowsNoEditor.
Look for the file GameUserSettings
Right-click on it > Click Properties
Remove the checkmark from the tab Read Only
Uninstall and Reinstall PUBG
If all these tricks don't work, not all hope is lost. There may be hope yet. Uninstall and Reinstall the game, this works more often than not.
If you're interested in mobile games, check out our guides on Homescapes Cheats.