BitLife
8×8 BitLife Prison Escape Guide (With Pictures)
This 8×8 BitLife Prison Escape guide will explain how to escape BitLife jail.
If you're looking for straight answers, click here to jump straight to the escape guide with pictures.
The fantastic smartphone game BitLife – Life Simulator is getting more and more attention every day. There are a ton of mini-games in BitLife that will keep you entertained for hours. There is a mini-game that challenges players to escape from every prison in BitLife. BitLife tries to mirror a lot of aspects of real life, so it should come as no surprise that committing crimes like this will land you in a virtual prison. You have two options in such a scenario: either serve your time in prison or try to escape prison. Every player who has been playing BitLife must be aware of how hard it is at first to escape from prison in the game, which is why there have been a lot of concerns recently regarding BitLife Prison Escapes from a lot of bitlife players. Life is not easy in prison bitlife games, especially with the 8×8 grids that are used for all max security jail escape plans. They can be very challenging to solve, but we are here to help with the new escape plan!
Also Read | All BitLife Driving Test Answers (Signs)
Security Prison Layouts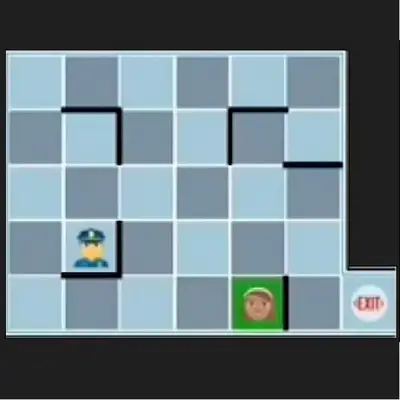 The security prisons layout in BitLife varies depending on the seriousness of your crimes and they are different prison map layouts each time. Surprisingly, players have discovered that even minimal-security prisons are difficult to escape from, let alone high-security ones, which are virtually impossible. There is no doubt that it is difficult to escape from a high-security prison in bit life, but there are a few techniques and tricks that can help you do so quickly.
How Does Escaping Prison Work?
In the game BitLife, when you try to escape jail, you are positioned inside a grid that shows the locations of you, the police officer, and the dark prison walls. The problem is that the guard tries to advance horizontally first, according to what the in-game instructions say, thus he moves twice for every move you make.
How Do You Escape an 8×8 Prison in BitLife?
In BitLife, there are a variety of security prison map layouts. The least difficult have a 4×4 prison layout with the lowest security, while the most difficult have an 8×8 prison layout with max security. On the map, you must get to the door before the guard captures you to escape prison. You need to remember that you must trap the guard inside the prison walls. The remaining medium and minimal security prison maps shouldn't provide any difficulties if you can successfully complete the 8×8 maximum security jail mini-game on your own. This is because it is much easier to trap the cop in the walls and because both the officer's movement and your goal are the same, to get to the end of the prison.
Different Types of Maximum Security Prisons
First, a reminder regarding bitlife strict maximum security prisons. The maximum security prison follows the same laws as the minimum and medium. Also, you should remember that each of the following prison maps frequently looks to be rotated 180 degrees. There appear to be more than seven maximum security maps as a result, however, nearly half of them have essentially flipped versions of the original prison map.
Medium Security Prisons vs. Max. Security Prisons
How can one end up in a prison map maximum? The most frequent method is to commit a significant offense. The main way to be placed in bitlife maximum security prison is to try to end someone else's life or to end someone else's life. Misdemeanors and less serious offenses are kept in minimum and medium security prisons. So you need to commit a serious crime if you want to try escaping the max security prison.
READ MORE | BitLife Prison Escape 6×6 – Escape Prison Guide
The maximum prison has characteristics that are unique and some that are similar. For instance, the prison riot games are the same as it is on the other ones. Likewise, prison jobs, sentencing appeals, and other issues. However, max security is much harder in terms of the social aspects of being in prison. In minimum security prison, there are no visible gangs. There are numerous groups in medium and maximum, some of which are far more absurd than others.
Is It Possible to Escape Prison During a Riot in BitLife?
Potentially, during the aftermath of any riot, players may escape the prison map. However, the player risks being attacked by other prisoners if they are unsuccessful in starting a riot because they can only do so once per year. Players that engage in these prison assaults will lose health, and if they run into a guard, they could be prosecuted. If the player is discovered attempting to cause a riot, their sentence may also be extended.
He will move horizontally first, so you can go to the right or left even if you are surrounded by police officers in prison. After that, if there is a wall above him, he could grab you because he only goes horizontally. Although not the only option, this is the simplest way to get out of prison in BitLife. Along with this approach, we also provide a cheat sheet for each map layout that clearly explains everything.
Security Prison Map Solutions (Security Prisons Layout)
Every prison has different layouts, and it is the same for security prison layouts as well. You need different prison map solutions to escape, and we are here to help you with that!
Escape Bitlife 8×8 Prison Map 1
Escape Bitlife 8×8 Prison Map 2
Escape Bitlife 8×8 Prison Map 3
Escape Bitlife 8×8 Prison Map 4
Escape Bitlife 8×8 prison Map 5
Escape Bitlife 8×8 Prison Map 6
Escape Bitlife 8×8 Prison Map 7
Escape Bitlife 8×8 Prison Map 8
What Are The BitLife Prison Ribbons?
You can complete the actions listed here to obtain both the Jailbird and Houdini Ribbons. You will get these ribbons in bitlife, after your death.
Jailbird ribbon – This one is really simple; all you have to do is escape and enter the prison three or four times. Once you've completed that, simply sit in your jail and continue to age until you pass away! You should only need to complete that to obtain the Jailbird Ribbon!
Houdini ribbon – You'll want to get arrested several times and escape as soon as possible. In your 60s, you can level up while not doing too much. Start robbing homes once you've done that to be caught. You will be arrested as a result, at which point you should escape bitlife prison. Do this a couple of times a year in your old age, and that should get you to the end and should get you the Houdini ribbon!
There are also two less-important prison ribbons, the Scandalous Ribbon, where you have to sit in prison for five years, and the Wasteful Ribbon, where you need to be sentenced to death in prison. These are the bitlife prison ribbons.
This concludes our explanation of how to escape prison game in the game BitLife. We hope that you now have all the information you need to proceed with escaping prison in bitlife and leveling up. We appreciate you reading this advice on how to leave the Bitlife prison. If you want to keep up with bitlife news, you should check twitter sometimes. Remember that after you've been to prison five times, you can join the Mafia after you get out to earn real money! You can check out our site for more guides as well!