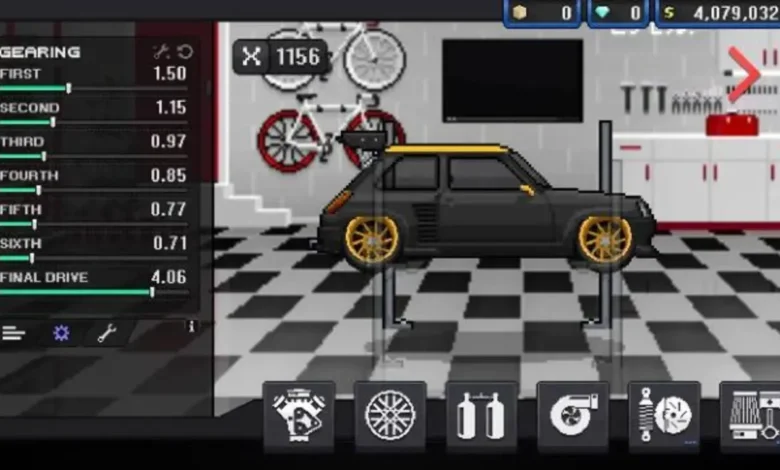 The beautiful thing about Chess is that you can turn a weak, unattractive pawn into a powerful, game-winning queen. That's the big idea behind car tuning. Pixel Car Racer's tune feature enables players to transform their cars and compete fairly, even if they don't have the big bucks to spend on high-end cars.
Sadly, not every player leverages this game-changing feature, or at least knows how to properly tune their car. It takes time, numerous races, and a lot of trial and error to get that perfect tune. Don't worry; we've got you. We have done all the hard work so that you can skip all of it and steal what we know; keep reading.
Best Tune For Pixel Car Racer
In Pixel Car Racer, the best tune for your car takes a bit of understanding to get right, especially if it's going to work for a wide range of cars. 
Tuning your car isn't magic. What works for another car may not work for yours. Instead of listing out specs and various car engines to try, we are going to help you understand what needs to be done. Before we dive into it, let's understand a few terms to make sure we are on the same page:
Tachometer: This is an instrument that measures the rotation of the car's engine crankshaft. It comes in handy when choosing a throttle and gear setting.
Powerband: An area in the tachometer that lies between the peak horsepower and the redline.
Electronic Control Unit: A management system that helps to keep the engine running smoothly.
Gear Ratio: This shows how quickly the car's engine turns in comparison to the transmission output.
Final Drive: Determines how quickly your car moves through the gears. It is found at the bottom of the tuning sliders.
How To Tune Cars In Pixel Car Racer
Our tune works not just for a wide range of cars, but for every distance as well. In tuning your car, you need to:
Determine its best shift point (dyno your car). This is done to get peak horsepower and torque Revolutions Per Minute (RPM).
Keep the needle in the powerband. In the powerband, your car has the most power, and more power equals more speed.
Have an engine that can rev up to a 10,500rpm. This way, your powerband will lie between high RPMs. For example, in an F1X engine with the VX type R ECU, it can be between 9000rpm and 10000rpm. This figure varies depending on the engine and ECU.
Keep the desired and preceding gear as close as possible. For example, 1st gear- 1.27, 2nd gear – 1.12. Closer gears enable them to begin at higher RPMs.
In keeping the gears close, you will need to set both gears, participate in a racing mode, and determine if the preceding gear is appropriate. Repeat the process from the 2nd to the 6th gear.
… after following the steps, you will need to set your final drive. This one's a bit tricky since there are two opposing principles at work. In Pixel Car Racer, a high final drive sacrifices top speed in favor of acceleration, while a low final drive sacrifices acceleration in favor of top speed. Leaning too much to one side can be counterproductive.
Related | Pixel Car Racer: How To Unlock Story Mode
The best bet is to find a middle ground. A good yardstick is to hit redline in gear 6 as you cross the finish line. Adjust the final drive if your car is Vmaxing too slowly or too quickly. It is also important to lay a good foundation with your first gear. 
A high first gear will leave you with a low final drive and vice versa. Try to keep your 2nd gear as close as possible to the peak torque (a little below the powerband). For gear 3 and beyond, it should be closer to the peak horsepower.
How Do You Make The Fastest Car In Pixel Car Racer?
In addition to tuning your car with the steps we've listed out, you can do the following to make your car faster:
Make your car as light as possible by removing items that might weigh it down.
Inflate your tires.
Start with a good base car. There is only so much you can do to upgrade a car with very low speed and acceleration.
Purchase or upgrade your nitrous.
In making your car faster, keep in mind that your skill level matters the most in Pixel Car Racer. Some players might try to exploit a Pixel Car Racer gearing glitch, but it's better to play the game, practice, and get better at it. Your finish time will steadily improve.