DragonVale
How to Breed a Sun Dragon in Dragonvale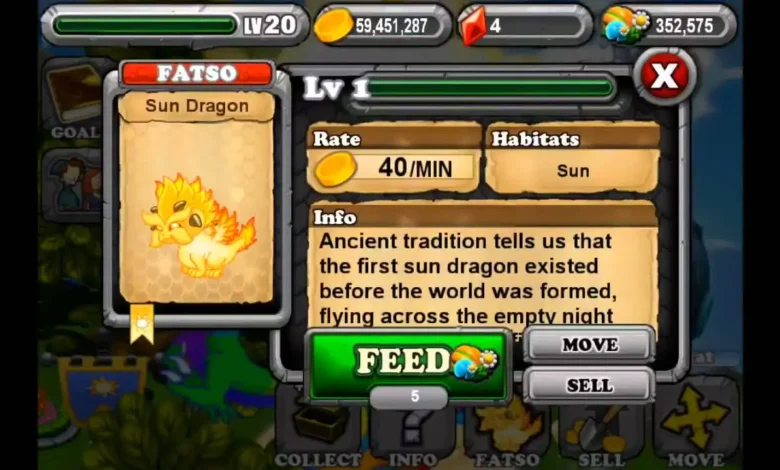 This DragonVale Breeding Guide will tell you exactly how to breed a Sun Dragon so you can add it to your growing collection. 
In DragonVale, the Sun Dragon is an epic dragon. The Sun Dragon may be created by combining two dragons with the Lightning and Cold components in any order. The breeding process must begin at any time of day. Daytime on the day sky transpires between 7 a.m. and 7 p.m., or any other time considered a day sky.
Monster
Breeding (Monsters)
Factors
Sun Dragon
• Dawn Dragon
• Dusk Dragon
• Midday Dragon
• Pharaoh Dragon
• Solis Dragon
• Kann Dragon
• Breeding location: Breeding Cave
• Bred in the day between 7 am and 7 pm
• 48 hours for breeding
• 48 hours for incubation
What Dragons Make the Sun Dragon?
Players can make the Sun Dragon by breeding a combination of the following:
Dawn Dragon
Dusk Dragon
Midday Dragon
Pharaoh Dragon
Solis Dragon
Kann Dragon
How to Breed a Sun Dragon
Go to the breeding cave or the epic breeding island. Before attempting to breed this dragon, your park must be level 10 or above. To make the breeding area glow, tap it.
The ingredients of cold and lightning must be present for a good outcome, and as a result, there are various conceivable combinations of breeding pairings. Among the numerous possible combinations are the following:

A firefly dragon and a cold dragon
A crystal dragon with a blue fire dragon
A quake dragon with an ice dragon
A storm dragon and a cold dragon
A fire dragon and a storm dragon
A scorch dragon and a cold dragon

Breeding takes 48 hours. The egg will be gold with a sun emblem in the center, and spending gems can shorten the breeding time.
Place the egg in the nursery and wait 48 hours for it to hatch.
Set up a solar habitat for the sun dragon. Feed it the same food as all newborn dragons to help it grow.
Related: How to Breed a Rainbow Dragon in DragonVale
Tips for Getting the Sun Dragon
It may take several efforts to obtain this dragon, like all dragon breeding. Simply keep trying.
This dragon will yield 40 coins per minute at level 1, generating 261 coins each minute at level 10.
Sun dragons are available on the market for 2,000 gems.
While the game's breeding guide specifies the Sun Dragon may only be spawned between 7 a.m. and 7 p.m., the Twilight Tower can overrule this.