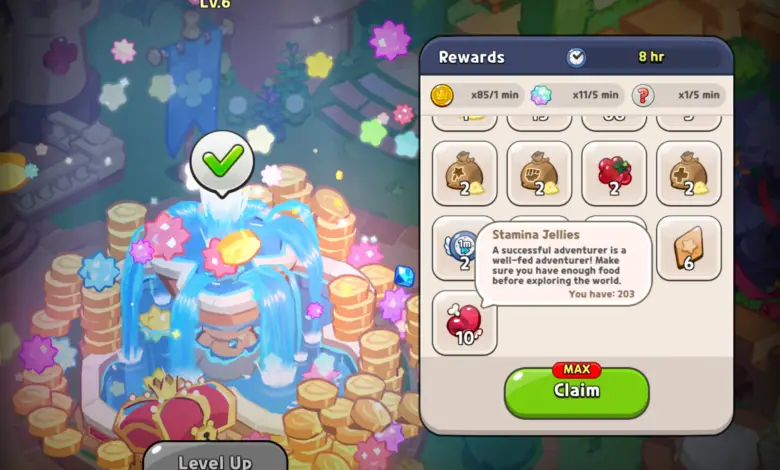 Stamina Jellies are used to play levels and battle monsters in the World Exploration mode, costing upwards of 11 Stamina Jellies per attempt. Each time your Kingdom is levelled up, your maximum stamina is increased by +2. In-game, Stamina Jellies resemble a red heart with a white bone piercing it.
This page explains how to get Stamina Jellies in Cookie Run Kingdom.
How to Get Stamina Jellies
Here are seven ways to get more Stamina Jellies in Cookie Run: Kingdom:
The Mailbox
The first and most straightforward method for obtaining Stamina Jellies is via the Mailbox. Each day, Cookie Run Kingdom sends players the "Another day, another adventure!" message that can be claimed for thirty Stamina Jellies. This is one example of many free offers that Cookie Run: Kingdom sends through the Mailbox. Remember to check it daily for other rewards such as EXP Star Jellies, Treasure Tickets, Arena Tickets, Cookie Cutters, and more.
The Fountain of Abundance
The second method for obtaining Stamina Jellies is the Fountain of Abundance: the fountain generates various different rewards over time, including Stamina Jellies. The number of potential rewards depends on the fountain's level: higher levels will yield more rewards.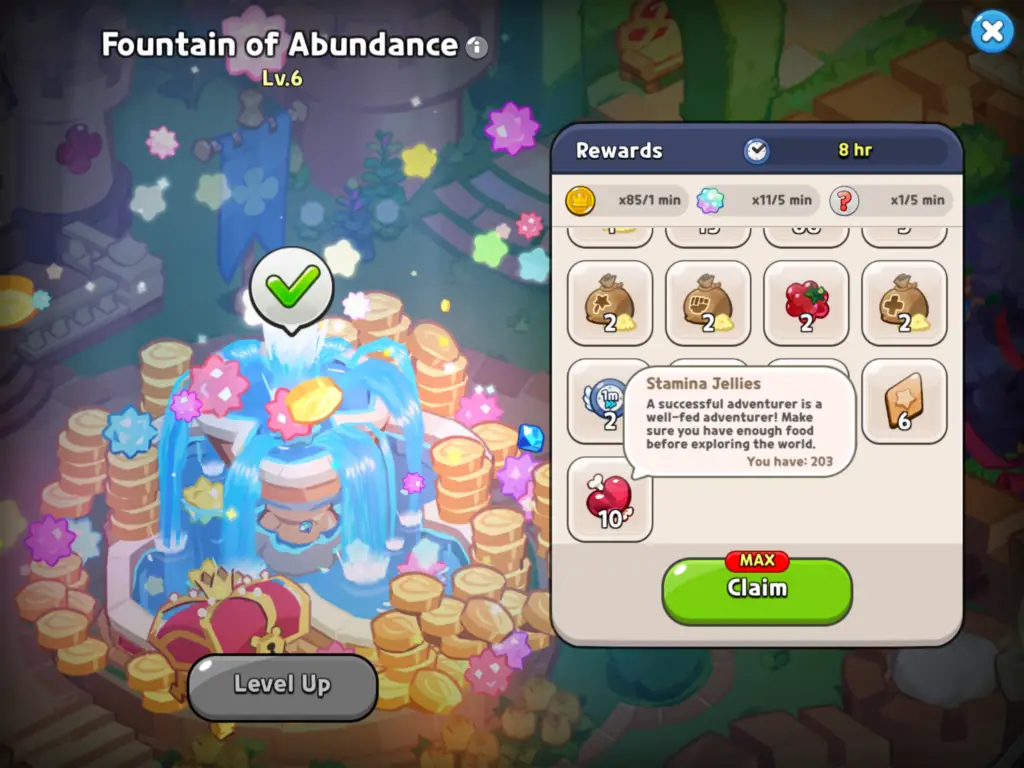 Events
The third method for obtaining Stamina Jellies is from events that give Stamina Jellies as their reward. Take the Protect the Kingdom event, for example, which provided tons of free Stamina Jellies for completing the event's missions. Although this specific example has since ended, new events are constantly released, so keep an eye out.
Tropical Soda Islands
The fourth method for obtaining Stamina Jellies is from the Tropical Soda Islands. To begin, you must have already: (1) restored the ruined dock (located on the left side of the map) and (2) be at least level 5. Once the dock becomes available, you will have the option to clear sea fog to uncover islands. Each island provides a different reward; some will supply you with ~10-20 Stamina Jellies.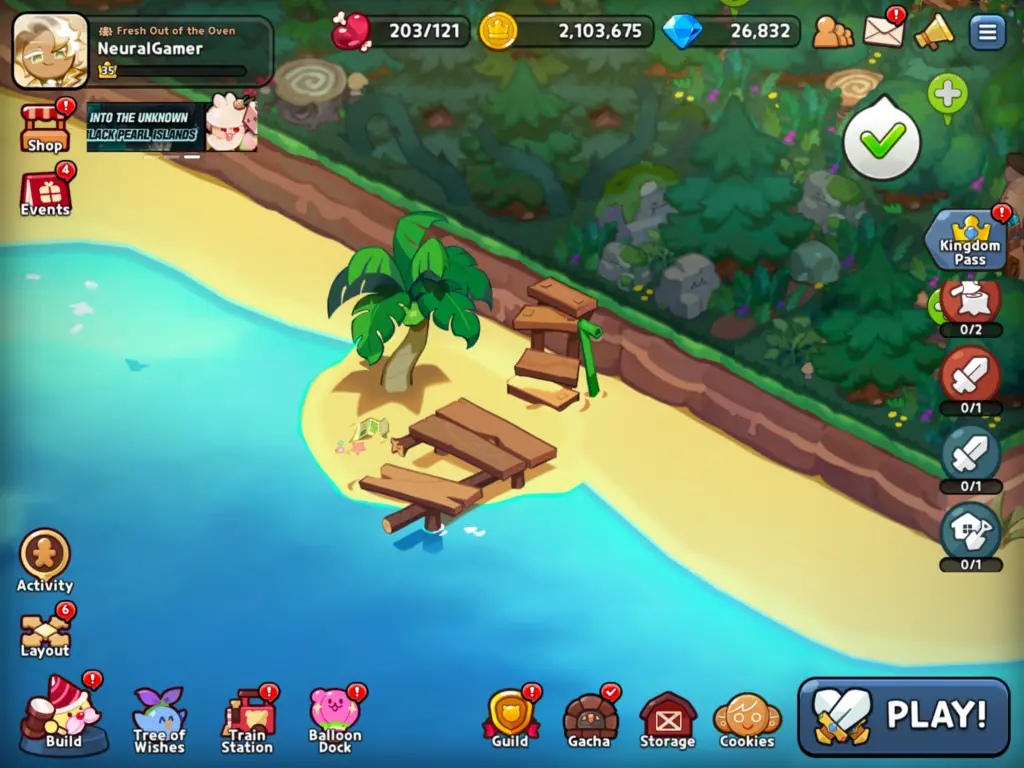 The Shop
The fifth method for obtaining Stamina Jellies is (although it might be unpopular) to buy them in the Shop with diamonds. From your Kingdom, tap the Stamina Jelly button at the top. This will make a window appear that asks you to add 30 Stamina Jellies for 90 Diamonds.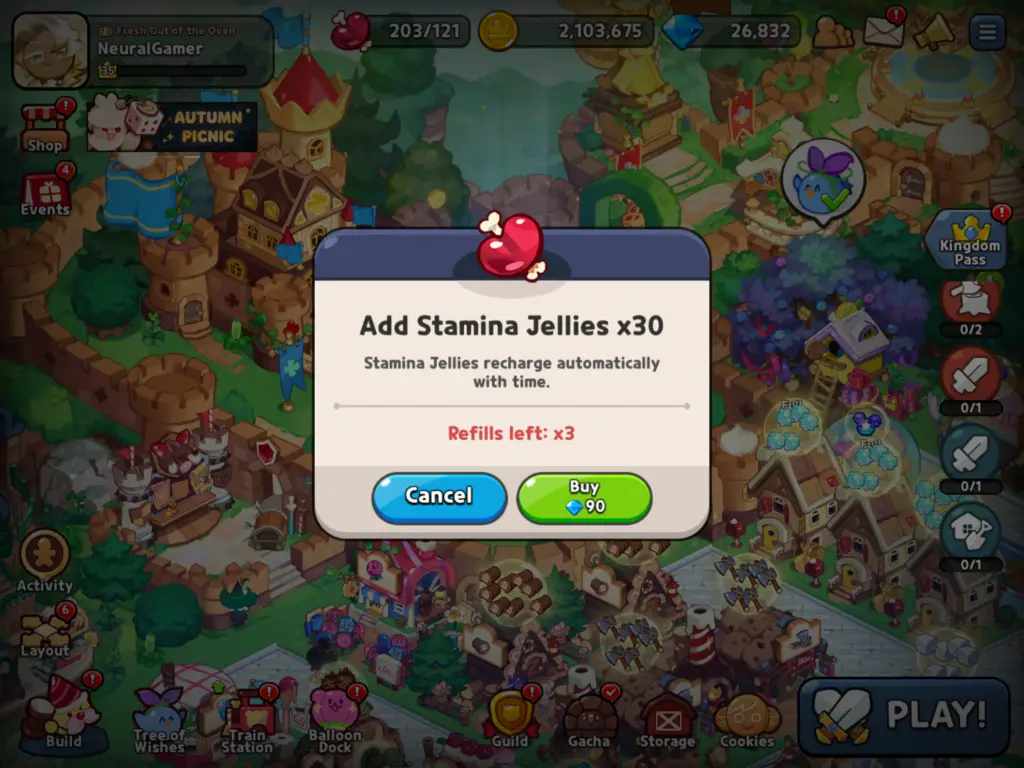 Promo Codes
The sixth method for obtaining Stamina Jellies is by redeeming Cookie Run Kingdom codes. We outline how to redeem CRK codes in our complete Cookie Run: Kindom Codes List. Plus, it contains every working promo code.
Waiting for the Stamina Jellies to Recharge
The seventh and final method of obtaining Stamina Jellies is waiting for them to recharge automatically over time. Players that have exhausted all other methods log off for a few hours and return.
Conclusion
This guide detailed how to get Stamina Jellies in Cookie Run Kingdom. By incorporating every method, your account should be swimming in Stamina Jellies!