Sandwich aficionados will be delighted, as Game Freak has just released a new Mystery Gift code! This unexpected package contains a variety of ingredients for Sandwiches that can increase your chances of obtaining Eggs, encountering and/or capturing Pokémon of specific types or simply boosting the experience gain of your team. These prizes are distributed randomly, so make sure to check out the list of possibilities below. This code will only be active until December 18, 2022 at 4 p.m. (local time), so don't miss out on this opportunity and hurry to get your hands on it! …Here's how to do it…
How to Get a Mystery Gift?
Like most of Game Freak's other games, Pokémon Scarlet/Violet Mystery Gifts come in the form of codes of up to 16 characters, like those you can enter in the Nintendo eShop. However, these must be entered within the game, and although this maneuver requires an internet connection, a subscription to the Nintendo Switch Online service is not necessary. Be aware that some Mystery Gifts do not require a code to be claimed, but this is not the case today. Here's how to proceed if you've never claimed a Mystery Gift before:
Launch your game and go to the Menu (X button).
Select the Poké Portal tab.
Choose the Mystery Gifts option.
Select Via code or password.
Enter the code LETTUCEBAC0N  (there is no letter O but the number zero).
Choose Ingredients for Sandwiches to get the set of ingredients:
What Are The Ingredients in the Mystery Gift?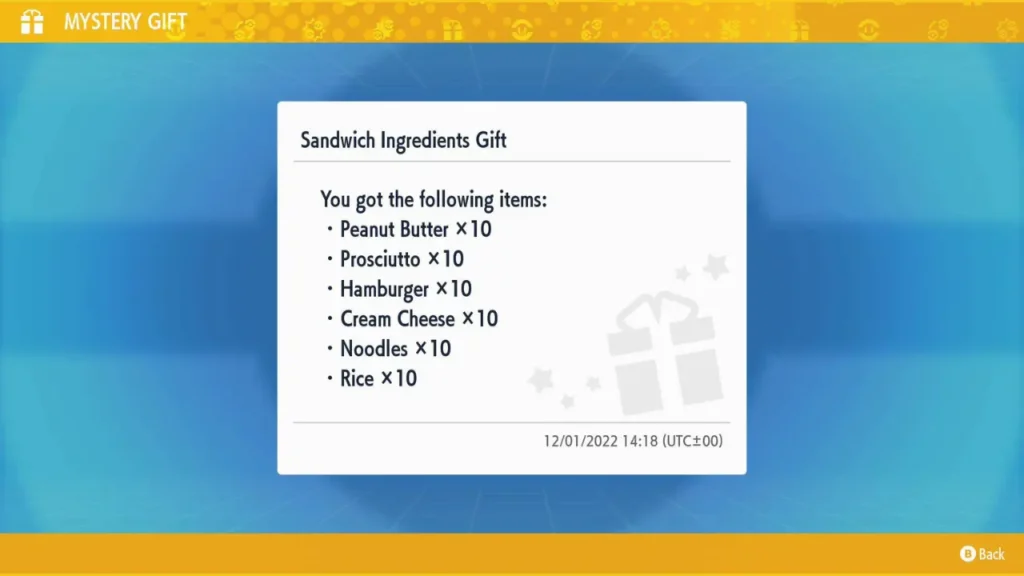 Once you have received your gift, just look in your Bag to find the ingredients. You will be able to receive one of the following prizes randomly, and you can only claim this code once per game:
| (#) | Rewards |
| --- | --- |
| 1 | Tortilla x10, Tofu x10, Potato Salad x10, Chopped Steak x10, Fried Filet x10, Noodles x10 |
| 2 | Craproid Sticks x30 |
| 3 | Whipped Cream x5, Cooked Ham x5, Yogurt x5, Peanut Butter x5, Marmalade x5 |
| 4 | Hot Sauce x5, Chilli x5, Curry Powder x5, Wasabi x5, Horseradish x5 |
| 5 | Smoked Filet x5, Rice x5, Wasabi x5, Salt x5, Vinegar x5 |
| 6 | Curry Powder x5, Rice x5, Noodles x5, Cheese x5, Egg x5 |
| 7 | Bacon x5, Ham x5, Raw Ham x5, Chorizo ​​x5, Sausage with Herbs x5, Chopped Steak x5 |
| 8 | Bacon x5, Lettuce x5, Tomato x5, Cheese x5, Mayonnaise x5, Mustard x5 |
| 9 | Banana x5, Strawberry x5, Apple x5, Kiwi x5, Pineapple x5 |
| 10 | Cherry Tomato x5, Cucumber x5, Green Pepper x5, Avocado x5, Red Onion x5, Watercress x5 |
If you found this guide helpful, we would appreciate it if you followed our Facebook, Youtube, Twitter and Reddit accounts. If you have any questions, feel free to contact us at support@neuralgamer.com.