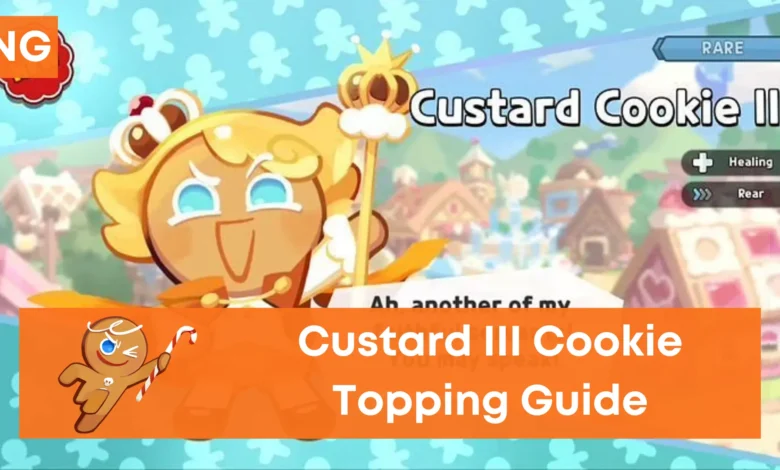 Among the Rare Cookies, there's only one Healer – Custard Cookie III, a character with big dreams of someday holding a throne, like his elder family members. This page is part of our complete Cookie Run Kingdom Topping Guide and details the best toppings for the Custard Cookie III Cookie.
What Toppings Go On Custard Cookie III?
The best toppings for Custard Cookie III are 3 Searing Raspberry, 2 Swift Chocolate because Searing Raspberry will increase the Healing possible, and Swift Chocolate will reduce his cooldown time.
To maximize Healing, 5 Searing Raspberry can be used. To maximize Speed of Healing, 5 Swift Chocolate can be used. Some builds, in teams without a solid Defender in front, might also add a Hard Walnut or two for Defense.
3x Searing Raspberry, 2x Swift Chocolate (recommended)
5x Searing Raspberry
5x Swift Chocolate
3x Swift Chocolate, 2x Hard Walnut
Custard Cookie III Cookie Build Description:
Custard Cookie III is a Healing Type Cookie, and works best when placed in the Rear Position. This Cookie's Special Skill is called King's Favor.
King's Favor heals the 2 Cookies with the lowest HP in its party, as well as casting a 3 second damage absorbing shield on them. For each level Custard Cookie III has, Healing increases by 2.15% of Damage from base level.
Best Custard Cookie III Team:
Here's the best Custard Cookie III Team:
Alchemist Cookie with 5 Swift Chocolate (Middle)
Carrot Cookie with 5 Swift Chocolate (MIddle)
Custard Cookie III with 3 Searing Raspberry and 2 Swift Chocolate (Rear)
Treasures that work well with this team include:
Booksellers Monocle
Elder Pilgrim's Torch
Old Pilgrim's Scroll
Is Custard Cookie III Good?
Custard Cookie III is a Rare Tier Cookie, with decent Healing Stats for starting out. Herb Cookie and Pure Vanilla Cookie have better Healing Stats, but Custard Cookie III does well until these can be acquired, and as a stand-in when Epic and  Legendary cookies might be limited.
Custard Cookie III is a good cookie for the early and easier stages of World Exploration due to Healing Stats, but may not be the best option for more difficult areas and requires a solid team to do well in Arena/PVP mode.
There are 2 Bonded Teams that can be built around Custard Cookie III.
Royal Dynasty? Team: Bonded with Princess Cookie and Knight Cookie
Best Birthday Ever Team: Bonded with GingerBrave Cookie, Strawberry Cookie, Wizard Cookie and Chili Pepper Cookie