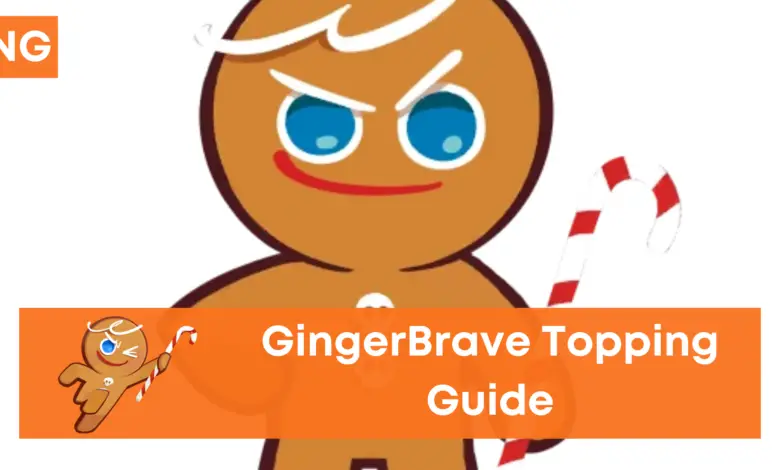 This cookie was one of the first to come to life, and the leader in exploring the world of Cookie Run Kingdom – He's GingerBrave, the cookie from which all cookie adventures began.
This page is part of our complete Cookie Run Kingdom Topping Guide and details the best toppings for GingerBrave Cookie.
What Toppings Go On GingerBrave Cookie?
The best toppings for GingerBrave Cookie are 5 Solid Almond Toppings because it provides maximum DMG resistance to support GingerBrave's charging attacks.
Alternatively, 5 Hard Walnut can boost Defense, or Swift Chocolate can be used to reduce the time between attacks.  Or a combination of Swift Chocolate with either Hard Walnut or Solid Almond can be used for a sturdy and quick-striking build.
5x Solid Almond (recommended)
5x Hard Walnut (Max Def.)
5x Swift Chocolate (Minimum Cooldown Build)
3x Solid Almond, 2x Swift Chocolate (Balanced Speed and DMG Resist. Build)
GingerBrave Cookie Build Description:
GingerBrave Cookie is classed as a Charge Type Cookie, and does best when placed in the Front Row. His Special Skill is known as Brave Dash.
Brave Dash is a straightforward charging attack that does 150% DMG to any enemy it hits, with an additional 1.2% DMG for each level GingerBrave gains.
Best GingerBrave Cookie Team:
Here's an example of the best GingerBrave Cookie Team:
GingerBrave Cookie with 5 Solid Almond (Front)
Avocado Cookie with 5 Solid Almond (Front)
Carrot Cookie with 5 Swift Chocolate (Middle)
Angel Cookie with 5 Swift Chocolate (Rear)
Cherry Cookie with 5 Swift Chocolate (Support Build) OR 5 Searing Raspberry (ATK Build)
Treasures that can help GingerBrave's Team include:
Booksellers Monocle
Squishy Jelly Watch
Gatekeeper Ghost's Horn
Is GingerBrave Cookie Good?
GingerBrave is a Common Cookie, and the earliest to appear in World Exploration. As the protagonist of the World Exploration storyline, he's somewhat stronger than other Common and Rare Tier Cookies of the same type.
GingerBrave is one of the best cookies for World Exploration, if not the best. In Arena/PVP, he has the potential to be a powerful Charge Type Cookie. If backed with the proper team and supporting Treasures, GingerBrave can take players far in most aspects of game play.
GingerBrave has 2 potential Bonded Teams that can be formed around him:
Best Birthday Gift Ever: Bonded with Wizard Cookie, Strawberry Cookie, Custard Cream Cookie III, and Chili Pepper Cookie
Less is More: Bonded with Ninja Cookie and Muscle Cookie