Roblox
Roblox Dunking Simulator Codes
This NeuralGamer Guide will discuss all you need to know about codes in Dunking Simulator on Roblox to add cash, boosts, and other rewards to your account. Learn what codes are available and how to redeem them in this comprehensive guide.
Dunking Simulator Codes Wiki
TL;DR: Dunking Simulator is a basketball-themed experience on Roblox where you attempt to dunk a basketball in the hoop for cash rewards. To redeem codes, click the Codes button, enter the code, and click Send. Here, you can enter various codes that are provided in our Dunking Simulator Codes List. Some codes provide an x2 cash bonus for 15 minutes, which must be used within the duration. Re-entering a code won't work, and codes are case-sensitive.
What Do Codes Do in Dunking Simulator?
Players can enter codes in Dunking Simulator for cash and other prizes. Each code has a specific reward that it will give once entered. As long as it hasn't expired, entering a code will immediately credit your account with the bonus. The small box in the screen's bottom-left corner indicates that the code has been successful.
Here is a list of rewards that codes have given in the past:
New Skins
Exclusive Outfits
Extra Coins
Secret Items
Special Events
Rare Equipment
Bonus Points
Boosts
Unlockables
Additional Levels
How to Redeem Codes in Dunking Simulator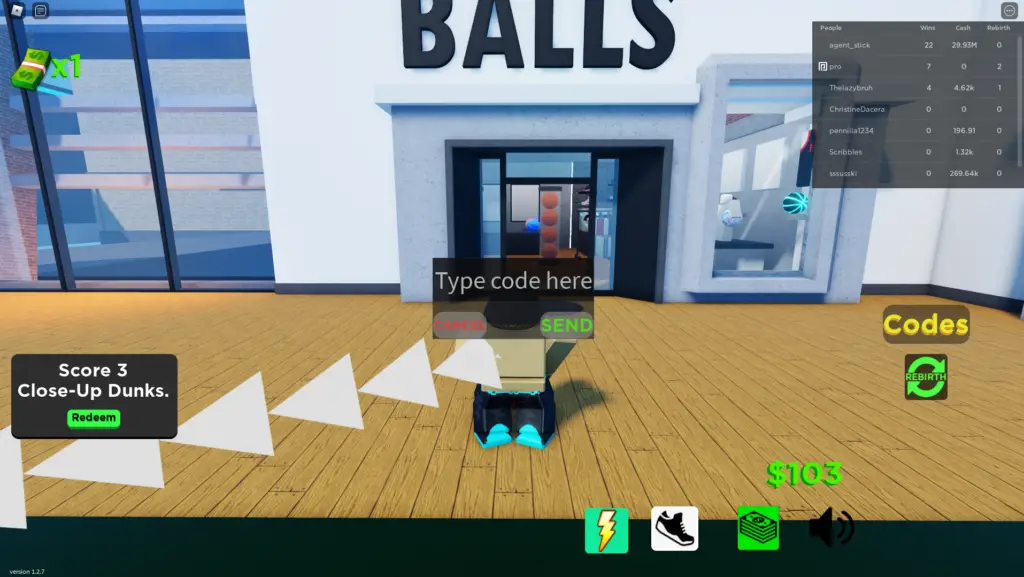 RELATED | Boku No Roblox Remastered Codes
Follow these steps to redeem codes in Dunking Simulator:
Launch Dunking Simulator.
Click the Codes button on the right (it's yellow and black).
Enter a code in the text field.
Click Send.
Doing this will redeem whichever code you entered.
What are the Codes for Dunking Simulator?
Here is a list of working Dunking Simulator codes:
onfire – x2 cash bonus for 15 minutes
2xCash – x2 cash bonus for 15 minutes
Once entered, these will give you prizes and boosts. Remember that players can redeem each code only once. So, you might want to save using the code until you're prepared.
Are There Money Codes for Dunking Simulator in Roblox
A few codes for Dunking Simulator give money as its reward. However, entering them won't instantly credit your account with a specific amount of gold. Instead, they give money boosters. For example, the above codes provide an x2 cash bonus for 15 minutes. Because of how this works, we suggest you save the codes until you are ready to play for its entire duration.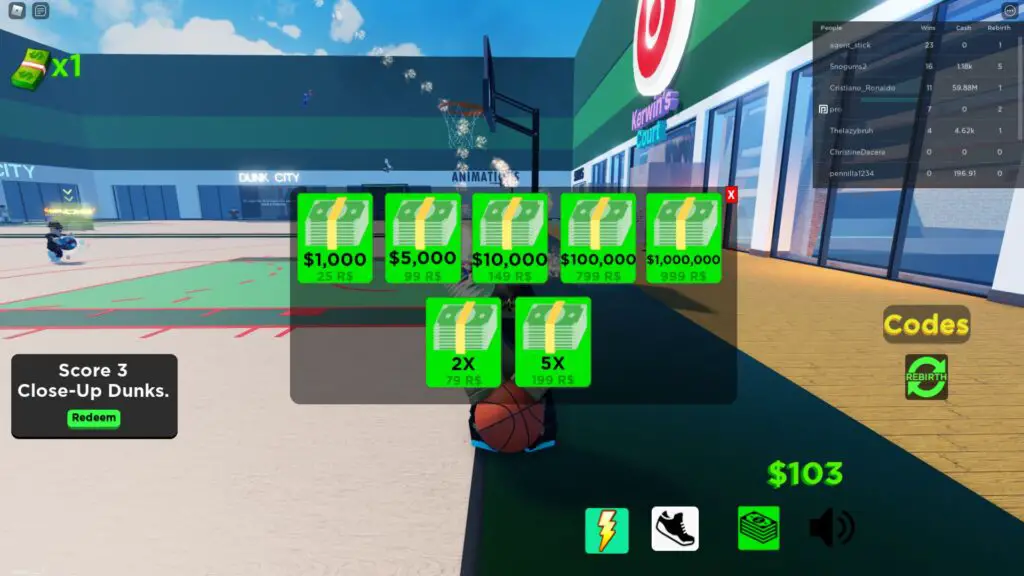 ALSO READ | A Bizarre Journey Codes List
Why Aren't My Dunking Simulator Codes Working?
There are two reasons why your Dunking Simulator codes might not work. If you've already entered it, remember that you can only enter each code once. Re-entering it won't give your account any reward. In addition, the above code list is case-sensitive. So your error might be because you have a letter wrong.
How Do You Play Dunk Simulator on Roblox?
To progress through Dunk Simulator's levels, you must have money — players use it to unlock new areas and upgrade basketballs. Cash can be gained from shooting hoops. Players will be credited with a given amount of money each time they make a dunk. Using this, they can improve their stats by purchasing a new basketball and then rebirth.
ALSO: Phantom Forces Private Servers EXPLAINED
How to Dunk in Dunking Simulator
If you're looking to dunk in Dunking Simulator, you'll first have to be close to a basketball hoop. Once here, hold the spacebar, which will make a bar appear at the bottom of your screen. The goal is to remain pressing space until the arrow is above the green. At which point, release the spacebar to dunk.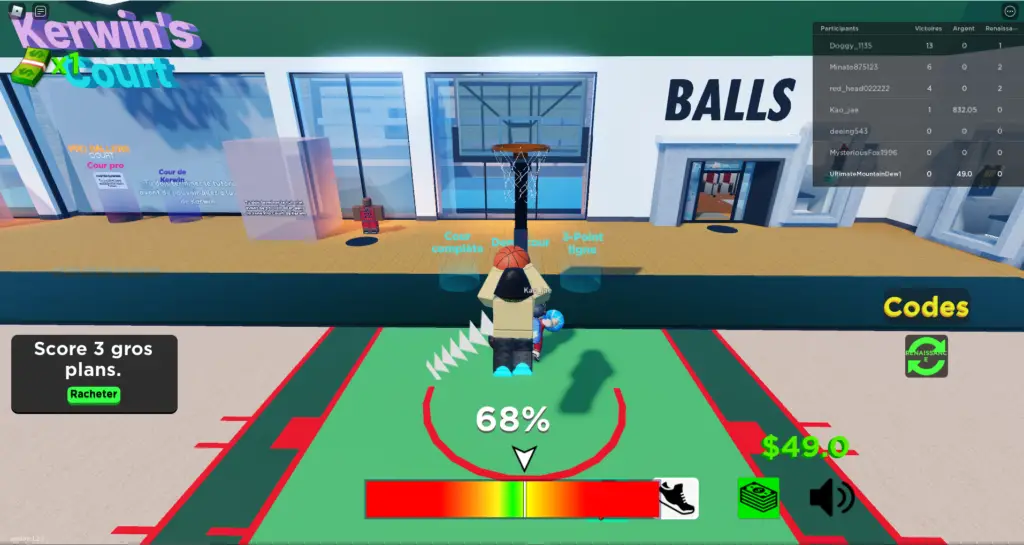 How to Rebirth in Dunking Simulator
Players will need a lot of money to rebirth in Dunking Simulator (the first rebirth is 50M). Next, you will need to go to the rebirth entrance. Here, players can step on the touchpad, and a prompt will appear on their screen. If you have enough cash, click the green Rebirth button, thus taking you to the next level.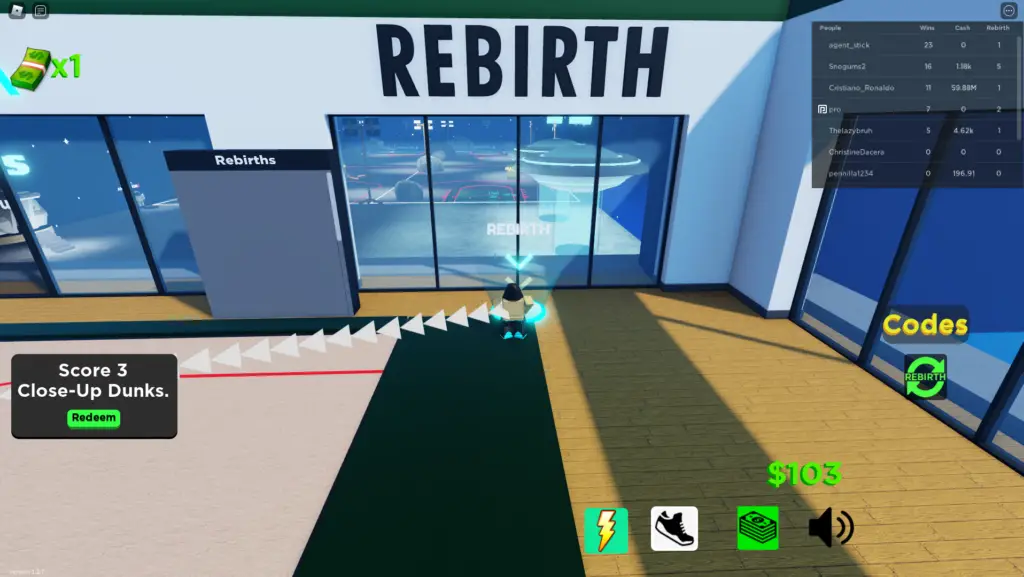 Summary
This guide took a look at Dunking Simulator codes, how to redeem them, and what they give. In addition, we answered some frequently asked questions.