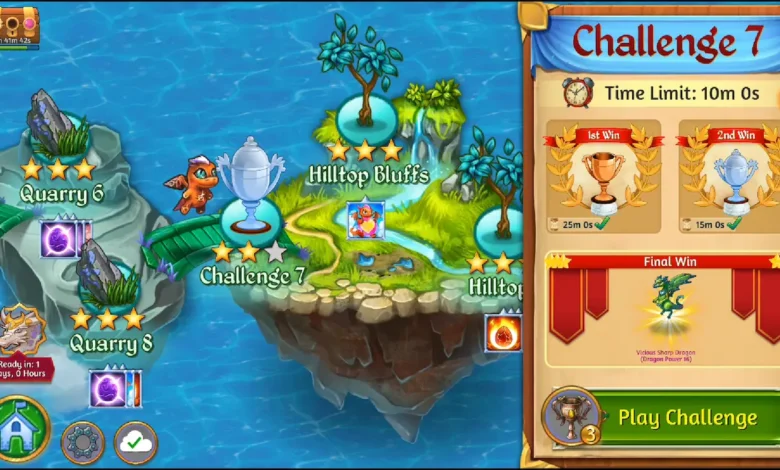 Hello. We are back with another Merge Dragons Challenge guide. Today we are discussing Challenge 7. We will look at some tips before you get started, and then we'll do the walkthrough. So, here is a guide on how to beat challenge 7 in Merge Dragons.  
Challenge 7 is also called level 42, and it costs 6 Chalices to do. The goal is to create two fruit trees. The Goal Stars are to drop 15 Dragons on Skulls, create 3 Fruit Trees (Level 3), and create 1 Fruit Tree (Level 4). Fruit Tree Leaf, Rock Dragon Egg, and Fruit Tree Sapling are potential rewards.
NEXT: How to Beat Challenge 8 in Merge Dragons
Challenge 7 Walkthrough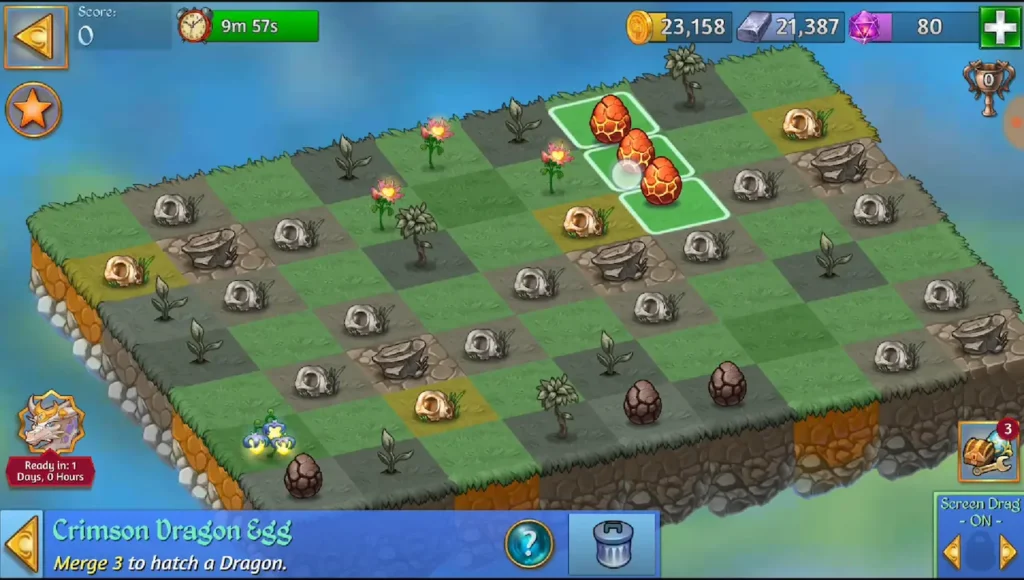 Follow these steps to beat Challenge 7 in Merge Dragons:
Dragon Eggs & Life Flowers
You want to start by merging a Crimson Dragon egg to the bottom middle level and merging it with those two in Dead Land. Then drag those other two to the screen's bottom-left so that it merges with the third one in the Dead Land.
Merge three Life Flowers and create another Blue Life Flower. Don't merge your Fruit Tree Seeds; harvest from your two Blue Life Flowers. Merge your orbs in groups of 5, making combinations so that you have two small Life Orbs. This will be enough to heal all of the Dead Land. Your flowers can be sold now.
Skulls, Rocks & Trees
Harvest all the skulls and destroy the Lifeless Rocks. Make sure you're tapping the floating leaves. Collect Magic Coins and Treasure Chests immediately. Now you have around 5 minutes remaining if you have been quick. You can begin merging. However, only merge the saplings of Fruit Trees and the higher-level Fruit Trees.
Now, you'll have to wait for the seeds from Fruit Trees to become saplings, which is why you have a long time. Keep merging the leaves from fruit trees as they blow past this level. When you do this, you should have no trouble creating two Fruit trees with around one minute to spare.
Well, now you know how to finish Challenge 7 on Merge Dragons. Thank you for reading our blog, and we sincerely hope you will come back every day to see what we have new on the site. We also want you, if you like, to leave a comment below. We're glad to hear your feedback.