Are you enjoying our Merge Dragon Challenge blogs? Then you will be happy to know we are here with another one. Today we are discussing Challenge 9. This challenge used to be one of the secret levels. So, we'll show you how to beat Challenge 9 in Merge Dragons.
Challenge 9 is also called level 57 and has a chalice cost of 1. The goal is to make 17 Life Flowers, and the Goal Stars are to merge five Portals simultaneously, have seven Life Flowers, and have fifteen Life Flowers. The potential rewards are Life Flower, Green Dragon Egg, and Stone Bricks.
NEXT: How to Beat Challenge 10 in Merge Dragons
Challenge 9 Walkthrough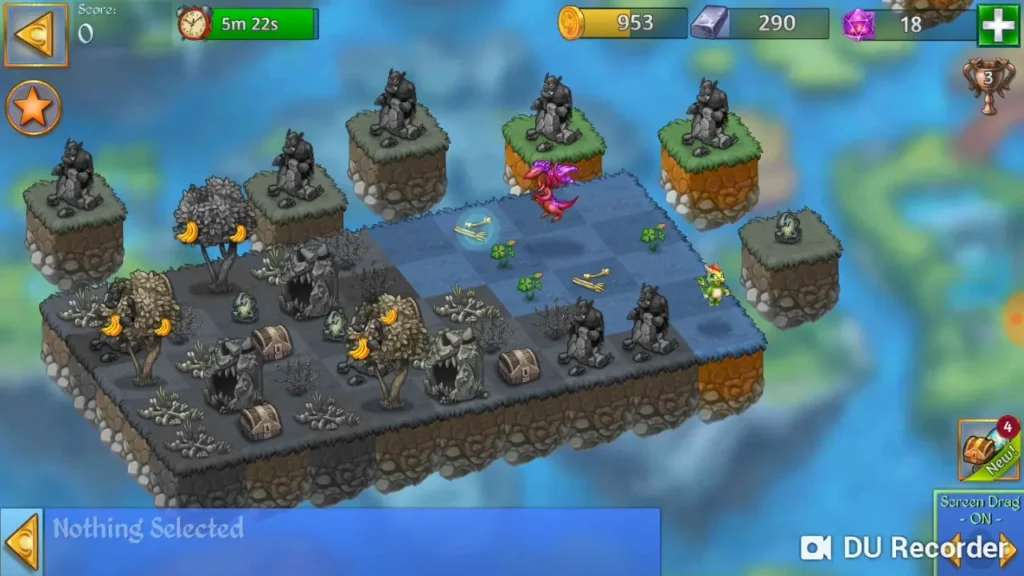 There's a Dragon Portal at the map's top-right. Drag it in between those other four on the big island. Then tap on those 2 Unearthed Skeletons. You now should have six bones. Merge five of them and harvest from the sixth one. 
You have around 5 to 9 Life Flower Sprouts. So, merge five of them and create two Life Flowers. The rest should be left for later. Have the dragons you got from merging the Dragon Portals harvested from your Life Flowers. 
Keep merging Life Essence in groups of five until you've created a level three Life Orb. Tap on it, and this should heal the entire land. Tap and/or merge the Treasure Chests. Tap on the Nice Fruit Trees and get bananas.
Fruit Is Good for You
Merge your Nice Fruit Trees and create Aged Fruit Trees. These can spawn some Level 2 flowers. Get pears from the Ancient Fruit trees and harvest the pears for Magic coins. Merge your bananas to see if Life Flowers spawn. If not, keep going. Merge the three Sharp eggs.
Skeletons & Zomblins
If you have dragons of level 4 or higher in your level, take the following steps, merge petrified Zomblins in groups of 3. If you don't have strong dragons to fight the Zomblins, have your dragons harvest the Brambles. 
Tap a couple of the unearthed Skeletons. Have your dragons keep on harvesting Brambles and merge Bones in groups of 5. Keep on harvesting Brambles and then merging bones. Keep merging Life Flower Sprouts in groups of five until you've won.
This is the way that you complete Challenge 9 in Merge Dragons. thank you for reading through it, and we hope that you will be coming back to read more blogs. Every day we are adding more game guides for your favorite video games, so there's always something new to read.