Video Game Guides
How to Make Slither io Not Lag (Get Better FPS)
This Slither io Lag Fix guide will explain how to make Slither io not lag in Chrome, Android, and iOS. It will answer why your Slither io is so laggy.
When it comes to getting better FPS and reducing lag, each platform has different solutions. Pick which platform you're trying to optimize from the links below:
Why is Slither io So Laggy?
In Slither.io, players can experience two types of lag issue:
The difference is that Ping lag depends on your internet connection speed. If you have this problem, the only solution is to move closer to your router or upgrade your internet plan. To check your internet speed, visit the Speed Test by Ookla.
By contrast, players can fix FPS lag through the methods outlined below.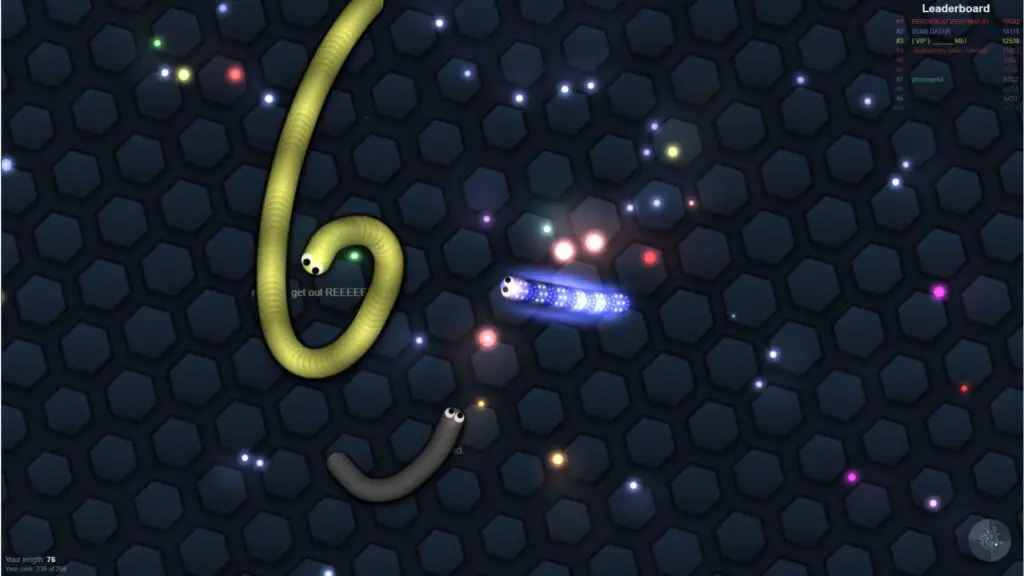 How Do I Fix Slither io Lag? For Chrome
There are many things you can do to stop Slither lagging on Chrome. We outline all of them below:
Download Tampermonkey
Tampermonkey is a Google Chrome extension that makes various modifications to websites you visit. 
Visit Chrome Web Store
Search for Tampermonkey
Click Add to Chrome on the Tampermonkey extension. 
Now that Tampermonkey has been downloaded, visit this website. Once there, scroll down and click the green Install this script button.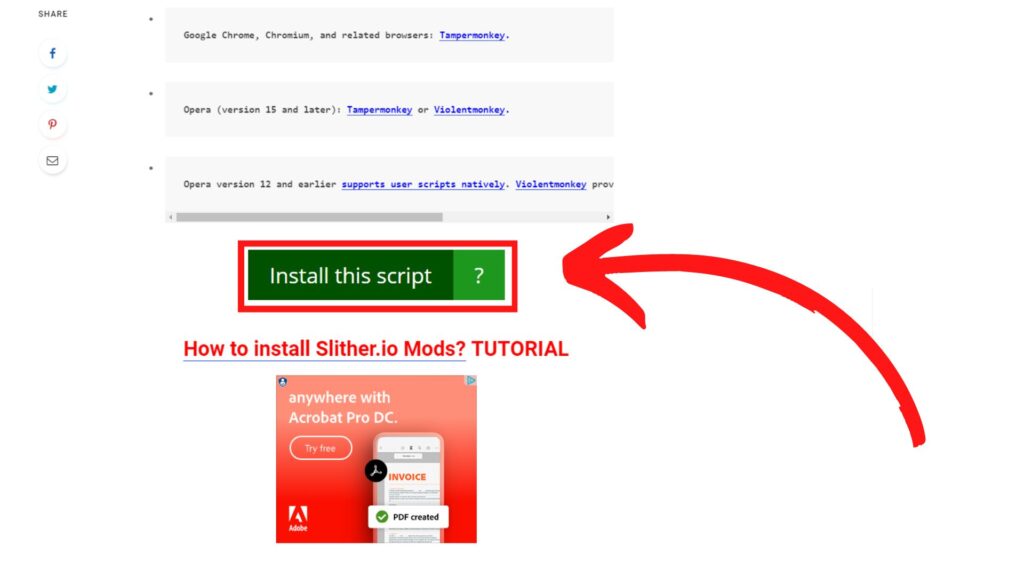 If you downloaded Tampermonkey correctly, a new web page should appear that looks something like this: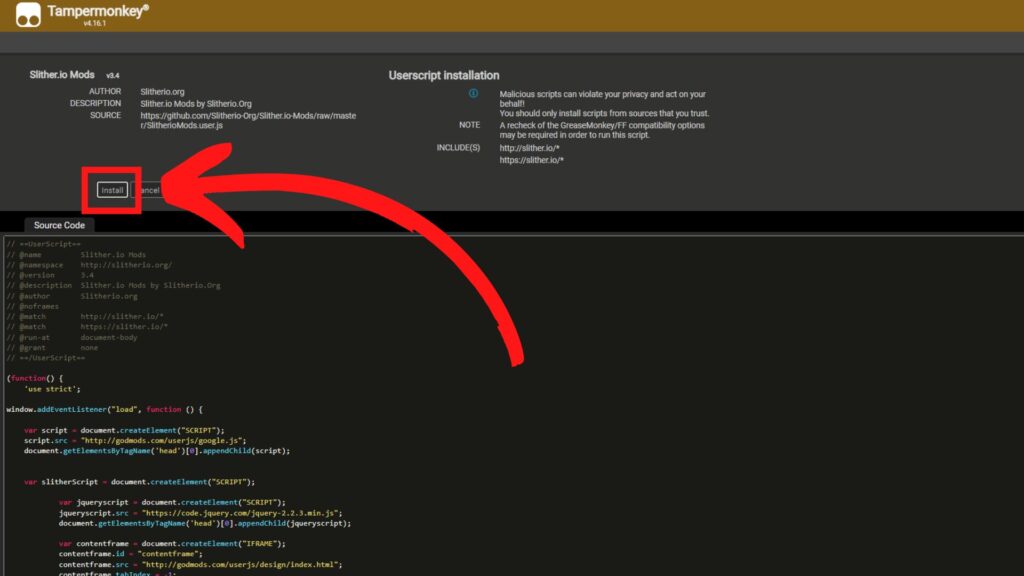 Select the Install button, and the page should close by itself. Now, open slither.io and refresh its page.
You will first notice that Slither's menu has completely changed, adding many new features (and cheats, if that's your style).
Now you've installed the script, select the Graphics tab. Here, change Graphics Quality to Optimized. In addition, change the Background to None (Black).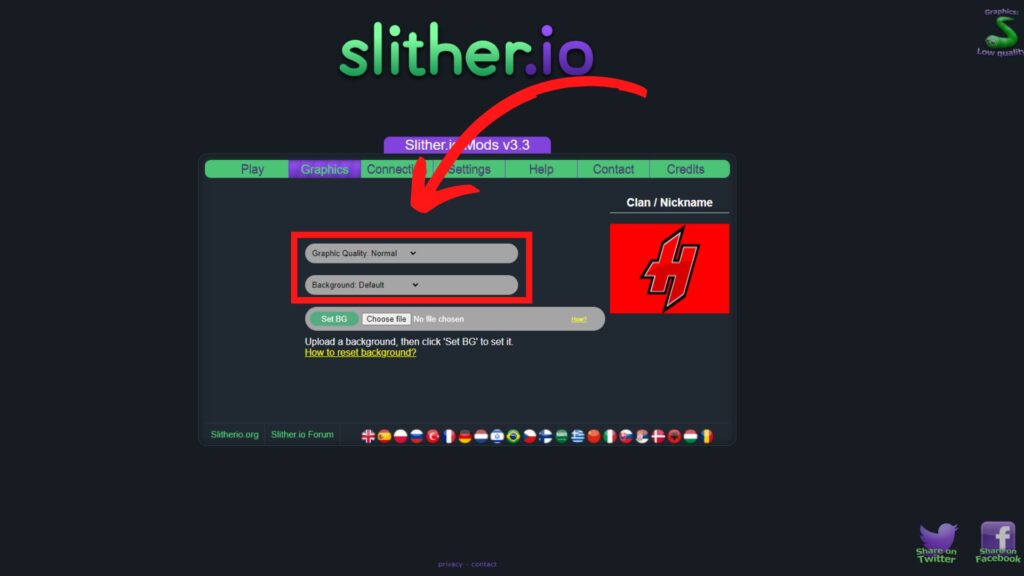 Change Graphics Quality to Low
If you are not looking to install Slither.io mods, your next best option is to change your graphics quality from high to low. This has demonstrated to make Slither io not lag on Chrome.
Although I'm sure many of you have already done this, I still thought it would be a good idea to add to this list. Who knows, maybe you didn't know about this option.
All you have to do to change your graphics quality is open the Slither.io home screen. Here, you will find a graphics option in the top-right corner, labeled Graphics:. Tap on it to change from high to low.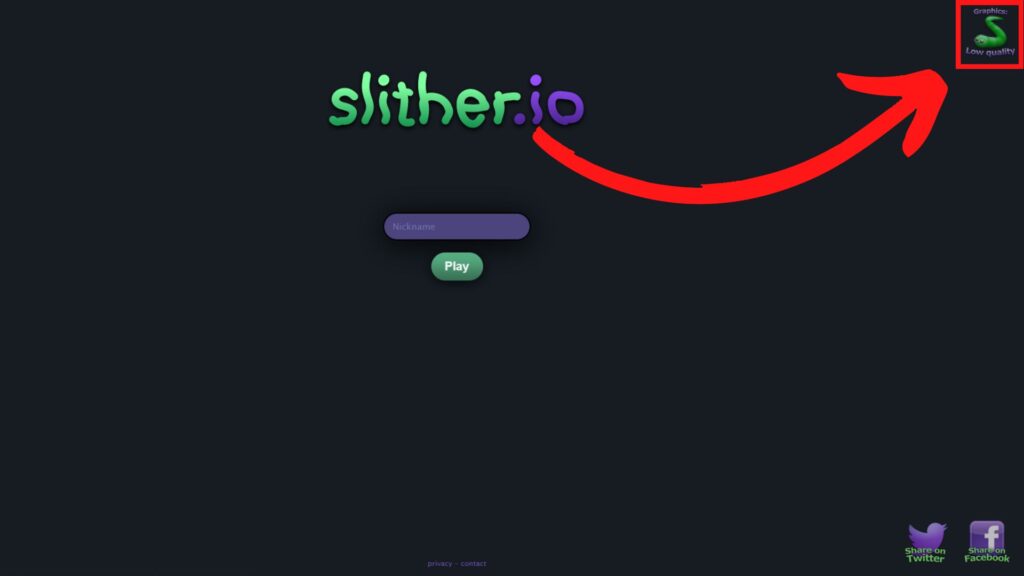 Reload Servers With The F5 Key
This is something you might not have known; you can use the F5 key to make Slither io not lag. Doing this will reload the website, thus reload whichever server you're connected to.
Using this method is about as straightforward as it gets. First, open the slither.io home page. Next, tap F5 on the keyboard. It should be located above the numbers 5, 6, and 7.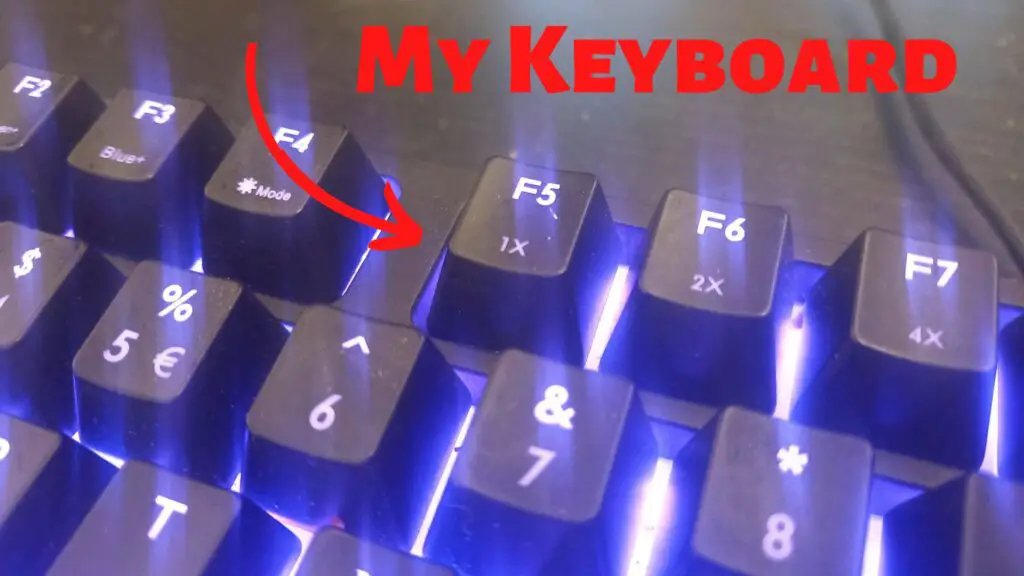 Use Incognito Mode
A big issue for many browsers or IO games is cookies. More specifically, how they impact the game's performance. Cookies store data and, in some cases, A LOT of it. Naturally, holding this much information slows your game's FPS and makes it lag. 
A workaround for this is to use Incognito Mode when playing Slither. If you're unfamiliar, Incognito Mode is a built-in Google Chrome feature that allows users to browse the web Anonomysley. This comes with the added benefit of removing all stored cookies. As such, it's one solution to fix your Slitherio lag problem.
To open Incognito Mode, select the three dots in the top-right corner of Google Chrome. If you need more information, refer to the image below p👇. Next, click on the New incognito window button.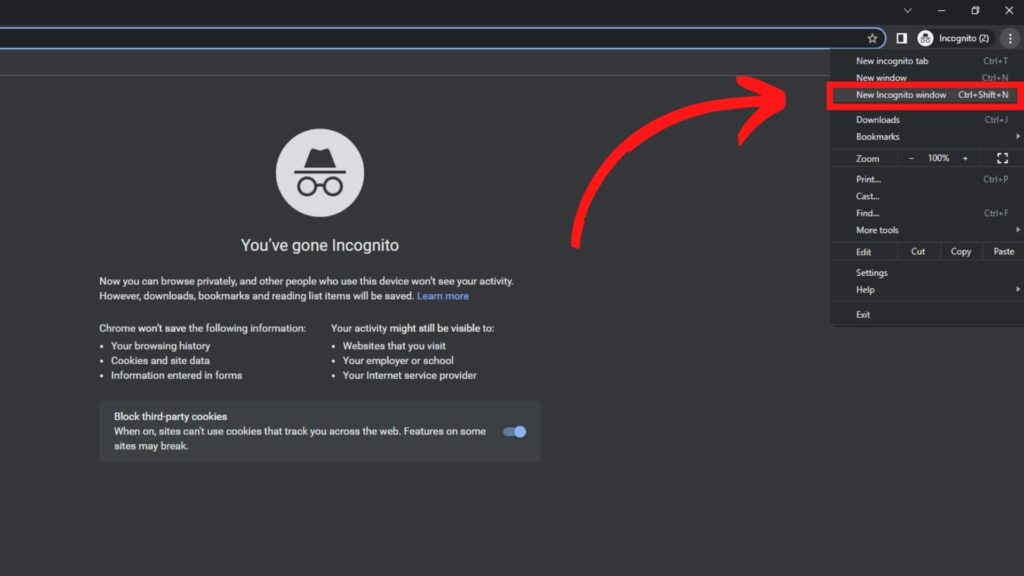 How Do I Fix Slither io Lag? For Android
Fixing FPS and lag on Android is not quite as simple as its desktop counterpart. The good news is that you don't have to download any 3rd party extensions. All you need is an Android phone with Slither io installed.
Read More: Invisible Skin Slither io Codes
Clear Cache
Clearing your cache has been proven to increase your device's overall FPS and speed. Follow the steps outlined below to clear your cache:
To begin, open the Settings app and scroll down to Applications. Doing this will open a list of all the apps you've installed. In the top search bar, type slither and tap on Slither io. Below Battery, click on Storage. Next, click the clear cache button at the bottom.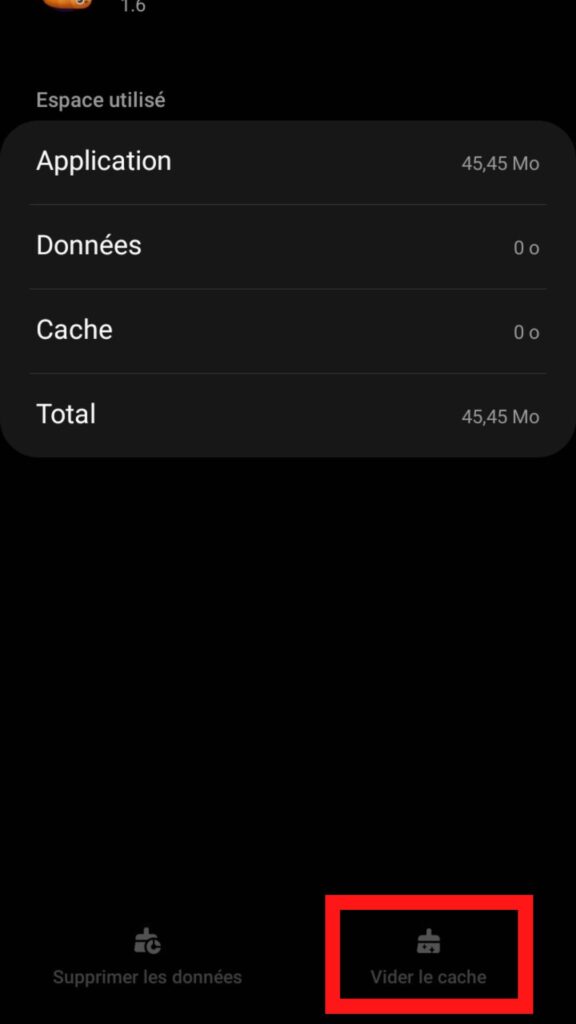 Use Game Booster
If that didn't do the trick, the following method REALLY boosts your game's performance. 
To begin with, open the Slither.io app. Swipe up on the screen's bottom or side to reveal the back, home, and overview buttons.
If you're unsure of what I am referring to, check out the image below: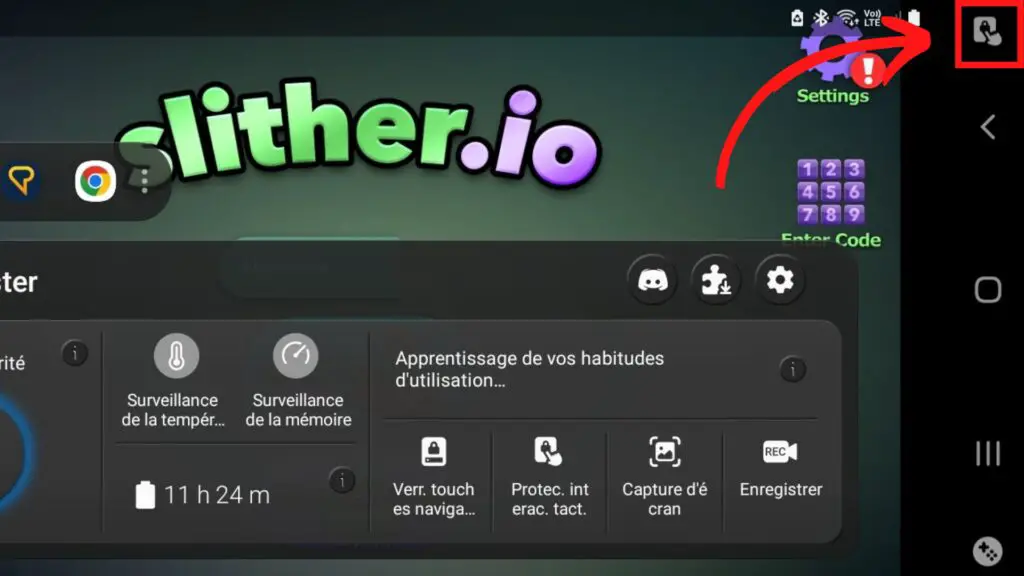 Next to the three buttons, click the small gaming icon. Doing this will open the Game Booster menu. Here, you want to do two things:
First, enable Priority Mode. This will make the phone allocate more resources during gameplay. Thus, you will get more FPS and less lag.
Second, click the small puzzle piece button with a download symbol (refer to the image below).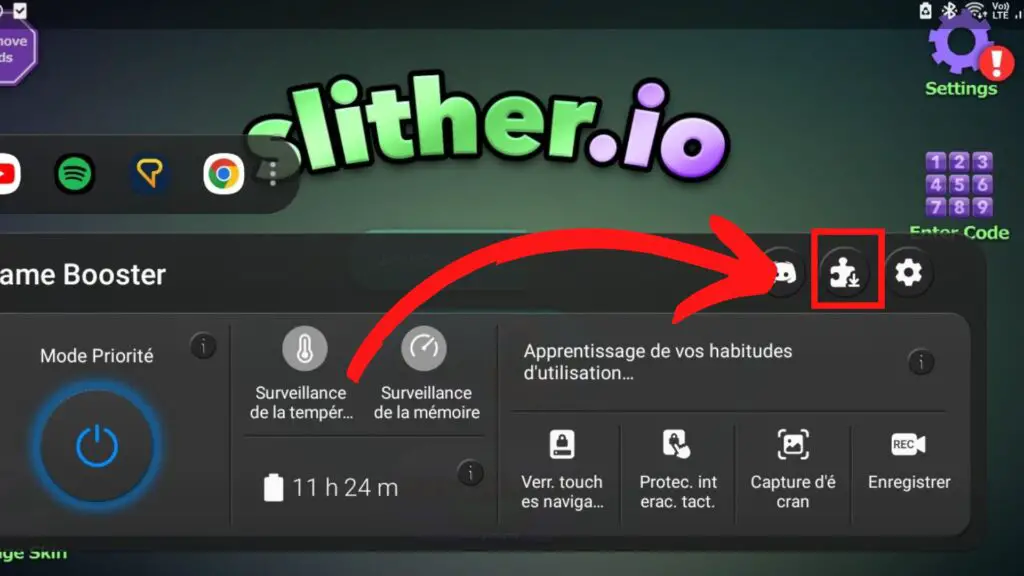 A new window should appear. At the top, tap Game Booster Plus (not the ON/OFF button, but the name). Here, scroll down to Slither.io and select it. Swipe up one Personalized option at the bottom of your screen.
Change the Graphics Quality to 0% and the Maximum FPS to about halfway. This will lower overall Slither.io lag.
Next, tap the Maximum FPS button at the bottom of the screen (not the slider you just changed). Once selected, tap Apply at the bottom.
How Do I Fix Slitherio Lag? For iOS or iPhone
Because of Apple's nature to restrict the amount of customizability their users have, it's difficult to change too many options that make Slither io not lag. Unlike Android, which allows users to change many different performance-boosting settings, apple users are stuck with two choices to increase performance:
Disable Battery Saving Mode
If you haven't already, you must disable Battery Saving Mode. This feature improves the length of your battery life significantly. This comes at the cost of slowing your phone's performance down.
To begin with, open Settings. From the menu, scroll down to Battery. Here, change Low Power Mode's green ON slider to OFF.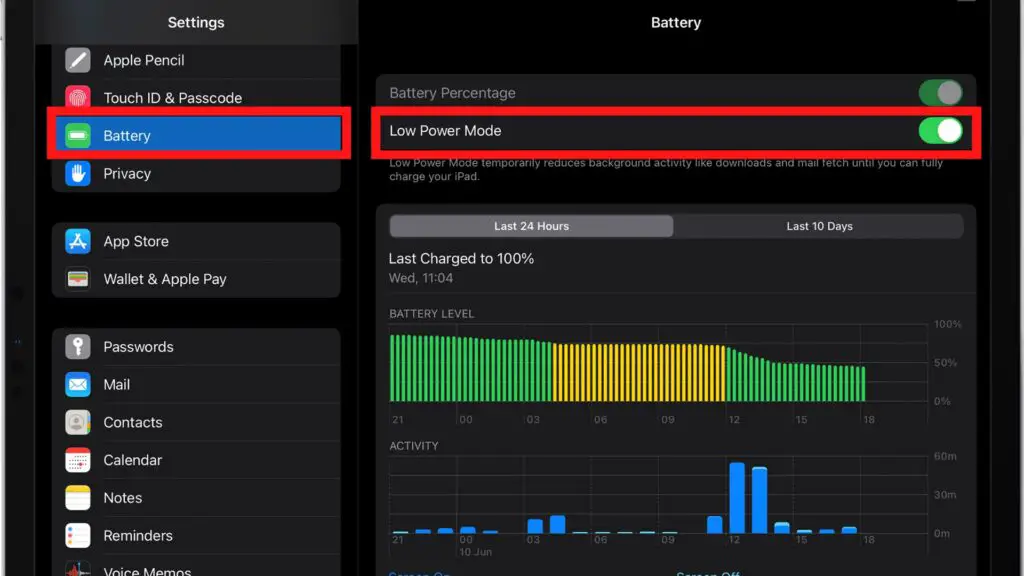 Play Against Bots
If you haven't noticed, below the menu's play online! Button, there is a second option; Play Against A.I.Within this game mode, your internet speed is not an issue because you don't have to connect to a server. If your game runs smoothly in this mode, it indicates that your problem is not internet-based. Instead, you are dealing with a performance-based issue.
That's it! We've outlined ALL the tips to make Slither io not lag for Chrome, Android, and iPhone. If that didn't do that trick, I don't know what will!