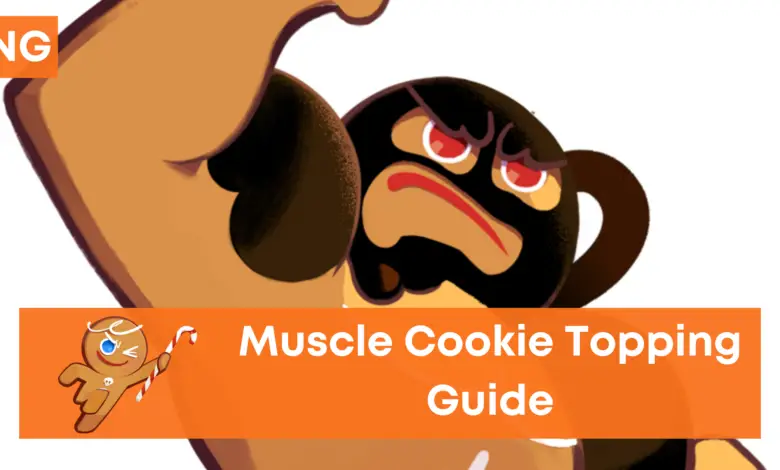 Muscle Cookie's physique isn't just for show; he knows how to use those muscles to deal a sharp blow to his enemies. This page is part of our complete Cookie Run Kingdom Topping Guide and details the best toppings for Muscle Cookie. 
What Toppings Go On Muscle Cookie?
The best toppings for Muscle Cookie are 5 Solid Almond Toppings because they aid in building up his defenses. This ensures he can remain in battle for longer to support his team. However, he can benefit from other combinations of cookies to be just as strong of an opponent. 
The best Muscle Cookie toppings:
5 Searing Raspberries
5 Solid Almonds (Recommended)
3 Searing Raspberries and 2 Bouncy Caramels 
Muscle Cookie Build Description 
Muscle Cookie is a Common Cookie, with a Charge type that sits in the Front position. When he's not lifting, he channels his anger into using his large dumbbell to hit his targets. Just one hit can deal up to 80% Damage as Muscle Cookie levels up. 
The Muscle Cookies cool down is only about 10 seconds, so he can pick up his dumbbell and prepare for the next charge when he's needed on the fly. When his dumbbell hits his enemies and then falls to the ground, it's able to stun the opposing team. 
Best Muscle Cookie Team 
Here is the best Muscle Cookie team in Cookie Run Kingdom: 
Muscle Cookie with 5 Solid Almonds (Front)
Is Muscle Cookie Good?
Muscle Cookie is good because even though his status has fallen from Rare to Common, he's a powerful force in battle. His temper is perfectly channeled into supporting his team, and once the battle is over, he is as friendly as can be.