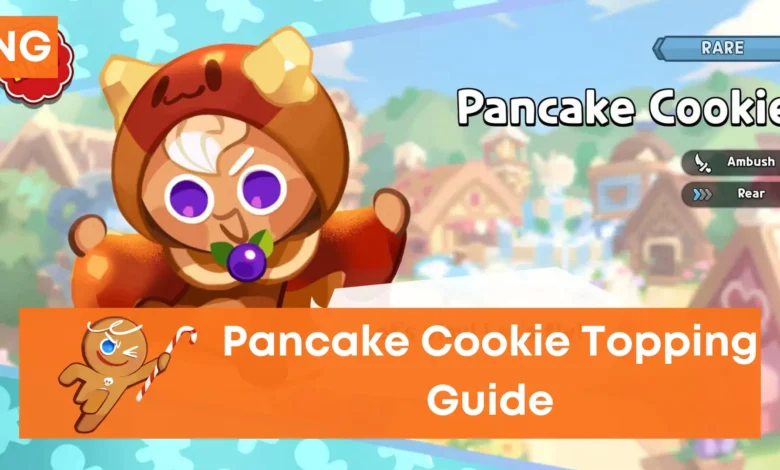 Cookie Run: Kingdom is a story based role-playing action game in which players build their Cookie Kingdom while collecting Cookies and using special toppings to clear difficult levels. This page is part of our complete Cookie Run Kingdom Topping Guide and details the best toppings for Pancake Cookie.
What Toppings Go On Pancake Cookie?
The best toppings for Pancake Cookie are 5 Searing Raspberries because it will accelerate his attack speed. Another good substitute would be 5 Bouncy Caramels as this topping causes more damage, making for a good and well balanced build of offense plus defense if used together with Searing Raspberry.
Here's a list of all the recommended toppings for Pancake Cookie:
5x Searing Raspberries
5x Bouncy Caramels
3x Searing Raspberries + 2x Bouncy Caramels
3x Bouncy Caramels + 2x Searing Raspberries
Pancake Cookie Build Description
Pancake Cookie is a Rare Ambush-type character who holds the rear position. His skill is called Take an Acorn. This particular skill allows Pancake Cookie to fly, throw acorns at the adversaries, and inflict the intended damage on them. When he uses this skill, it increases the whole party's attack speed, which makes for a more substantial impact in damage.
The skill Take an Acorn delivers a damage of 40.0% (+0.5% DMG per level) and increases the Attack Speed of the entire party to +20.0% Attack Speed for 6.0 seconds. The Cooldown period for this skill is 15 seconds. 
Best Pancake Cookie Team
Here is the best Pancake Cookie team in Cookie Run Kingdom:
GingerBrave Cookie (Front)
Gumball Cookie (Rear)
Pancake Cookie (Rear)
The best treasures for this team are Gatekeeper's Hope, Scythe, or Old Pilgrim's Scroll. Other good treasures would be Squishy Jelly Watch or the Revive Feathers. 
Is Pancake Cookie Good?
A Pancake Cookie is good for DMG Resist if players build up the subs. His Magic Candy ability allows him to glide through obstacles and get past enemies without waiting for his power to recharge. This cookie is especially good in PVP mode, and is also an Epic Tier Cookie.
This article tells players about the best Pancake Cookie toppings. If you have any more questions, please feel free to ask below.