This Cookie Run Kingdom Toppings Guide will explain which are the best Wildberry Cookie toppings in Cookie Run Kingdom. Continue reading to learn more…
---
The best toppings for Wildberry Cookie are 5 Solid Almonds because it's a frontline unit; as such, you should try to get as much DMG Resistance as possible. You should also focus on CRIT Resistance and ATK. Almost all of the top 100 player's using Wildberry Cookie picked Solid Almond as their topping of choice.
---
Wildberry Cookie Build Description
| ABILITY | DESCRIPTION |
| --- | --- |
| Single Hit DMG | 423.5% + Stun 1.3 sec |
| Wild | +35.3% to final blow for every hit |
| Max Stacks | 30 |
| DMG Resist | 15% to all allies during Battle Rage |
| Uppercut DMG | 33.8% |
| Final Blow DMG | 247.8% |
Here is the best Wildberry Cookie team that's used by many pros:
Wildberry Cookie with 5 Solid Almond (Front)
---
Is Wildberry Cookie Good Cookie Run?
Wildberry Cookie is an excellent tank and damage-dealer! As a frontline unit, it can withhold a large amount of enemy damage, and any enemies that are hit get stunned. Despite his high resistance, he does a chock-load of damage (especially if you add ATK sub-stats for toppings). It makes sense that almost all of the top 100 players incorporate the Wildberry Cookie onto their team in one way or another.
The Wildberry Cookie is ranked in S Tier because of its popularity amongst the pros. This makes a lot of sense, considering that the cookie strikes the perfect balance between being a tank and dealing damage. It can be safely placed on most teams without an issue, which is why it's so popular amongst the top 100 players.
---
How To Get Wildberry Cookie in Cookie Run Kingdom?
Here is how to get the Wildberry Cookie in Cookie Run Kingdom:
Save up 300 Crystals (the more, the better).
Spend them to buy a Gacha.
Hope for the best! There is a 19% chance of drawing the Wild Berry Cookie.
---
About the Wildberry Cookie…
Wildberry Cookie Wiki 👇
Primary Role: Defensive
Announced: 30th April 2022
Released On: 3rd May 2022
Rarity: Epic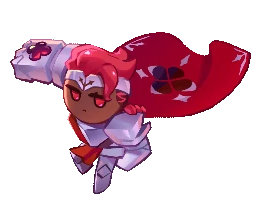 ---
Summary
This guide looked at the best Wildberry Cookie toppings built-in Cookie Run Kingdom. It also answered some common questions, like: is Wildberry Cookie good?