Sneaky Sasquatch
How to Become Mayor in Sneaky Sasquatch (Apple Arcade Walkthrough)
As a player in Sneaky Sasquatch, you will find that you can become the mayor in the game. So in this walkthrough, we will cover the topic, How to become mayor in Sneaky Sasquatch.
The mayoral election will take place during Chapter 4 of the storyline. The sasquatch will compete against the character named Pemberton Jr so that they replace the mayor who is currently running things.
Contents…
How to Become a Mayor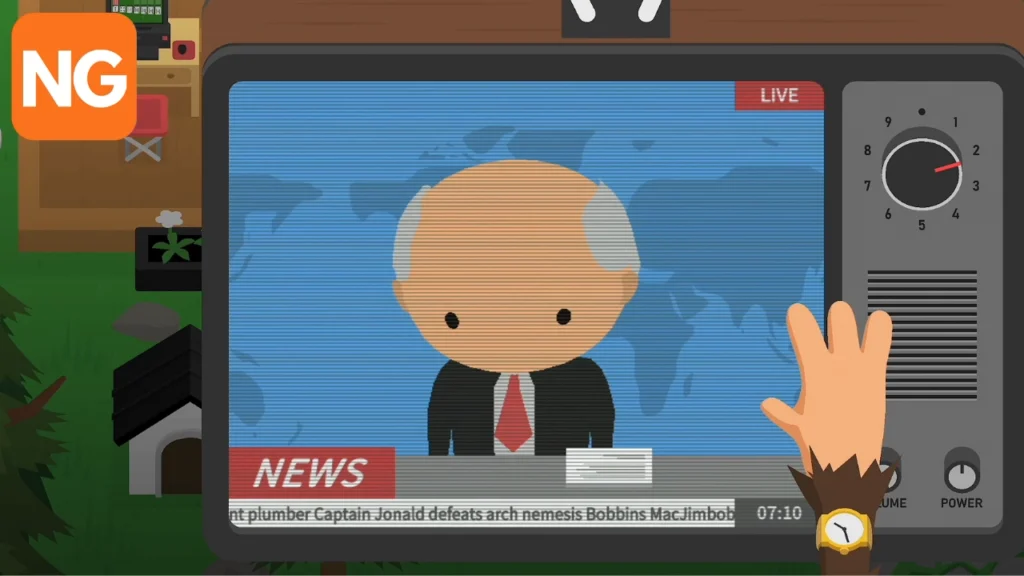 A large animal group gets together inside the Ranger Station and watches the news on TV. The news anchor's interviewing Pemberton JR, who announces his campaign to become the mayor.
Here are his goals if he becomes mayor:
Solve the problem of Vitamin C by forcing the government to give everyone access to the orange stockpile.
Introduce a negative tax rate of 10%. This means that the town will return one coin when 10 coins are spent.
Build those luxury condos that he's been attempting to build since Chapter 1 and then raffle them off to those who give them their vote.
Release Mr. Pemberton who'd been framed by a company executive (the Sasquatch in his disguise)
Instead, the animals make the decision to help the Sasquatch to become mayor. So that you can begin your campaign, you have to go to Construction Duck. Then you have to spend 5,000 coins and 100 lumber so that you can build your Election Headquarters. You can't customize this building.
Tasks to Complete to Become Mayor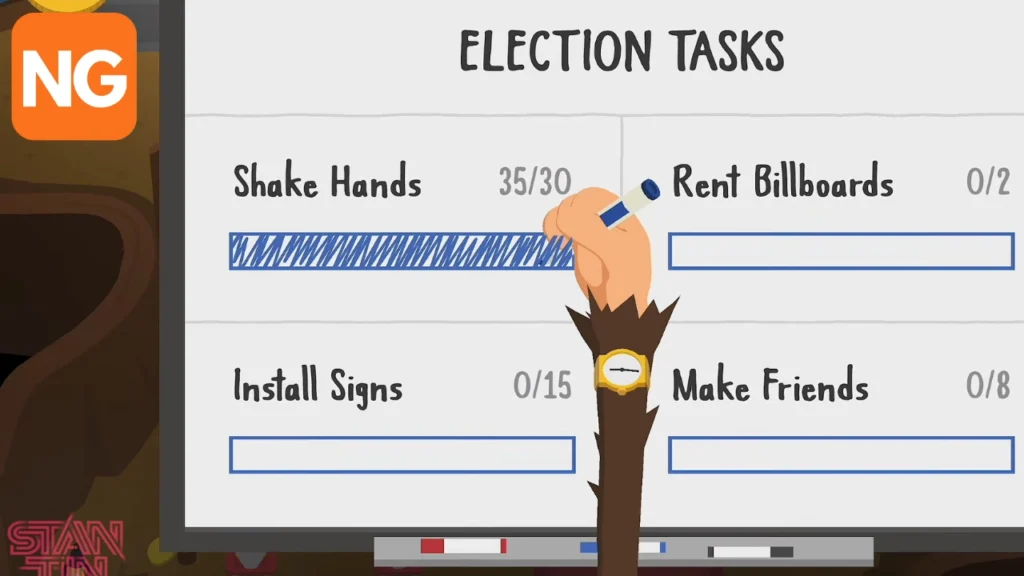 Visit headquarters and speak with the 4 Election Ducks and the Raccoon. There are a total of 4 tasks, and you can complete them simultaneously or in no particular order.
Shake Hands: Go to the areas where you can find humans. These are places such as Campground, Town, and others. You'll see that some of the humans that are walking around have yellow exclamation points floating on top of their heads. Speak with these humans and then shake these humans' hands. Shake hands strongly and do it 10 times successfully.
Put up Billboards: Rent 2 billboards and put the number (555-8683 to Election Headquarters on the billboards. It's possible to keep on advertising your businesses if you put the numbers on both the bottom and top lines. If you call the number, an Election Duck will say "Vote for <player name> or else!"
Put Up Signs: Get the signs from your table and put them on some empty signposts. They have white exclamation points around your map. You'll need to put up 15 signs.  You'll have to go back to headquarters though because you can only carry 5 at a time. There are 13 locations for signs.
Here are the 13 locations of the signposts.
The intersection of northern crossroads
Entrance area of Race Track, along its entrance road (space for two signs)
On the Race Track, in the southwestern turn
Close to the sign that says CAMPGROUND in the Ranger Station, on the road toward the Intersection
Entrance area of the Golf Course, on its entrance road
Along the entrance road to Ski Mountain's lower level
At the parking lot of Dirt Racetrack
Along the road near Strip Mall (space for 2 signs)
Town close to Stop and Snack
Town, close to the road to Port
Marina close to the road
Island, on the road that's to the west of the Taco Truck
Island, along the road west of Taco Truck
You have to befriend a total of 8 voters. Friendship Duck's Friends book will give you assistance in doing this task. This is very important when you are trying to become the mayor in Sneaky Sasquatch, so make sure that you complete this last step before voting.
The Voting Process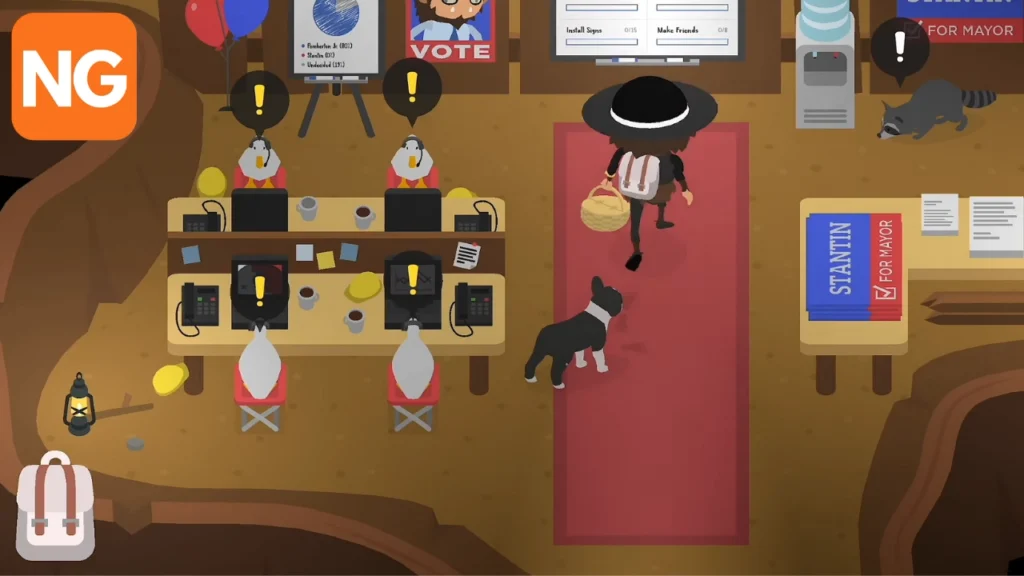 Once all of the tasks have been finished, speak with Raccoon. This will get voting started. No matter how you choose to vote, you are going to win by just a single vote, and the vote will be 46 to 45. So, you are always going to win.
Thank you for reading this walkthrough on how to become mayor in Sneaky Sasquatch. We hope you enjoyed it and found it useful and that you will keep coming back to read our blogs. We'll have many more being published soon to help you save time in Sneaky Sasquatch!